As an Amazon Associate, I earn from qualifying purchases. Some of the links below might be affiliate links. This helps me to run the site's maintenance.
For anyone in the market looking for a great spinning reel, there is no reason to spend more than $100. I promise to bring you the best spinning reel under 100 that will have plenty of features but will not break the bank. With any spinning reel, performance is important and the reels on my list outperform the competition.
Of course, comparison shopping is always good, which is why I bring to you a comprehensive list of spinning reels that are available to you for less than $100. Some of these reels are specific for different purposes which means you won't get stuck with a reel that will not perform when you need it to.
Best Fishing Reels 2020
The best fishing reels often are determined by the type of fishing that you will be doing. There are many great spinning reels under $100. There are spinning reels that are better for all types of fishing whether you are looking to fish for a specific species or just fishing in freshwater or saltwater.
Abu Garcia Revo X the Overall Best Spinning Reel Under 100
The Abu Garcia Revo X Spinning Reel is my top pick for the best spinning reel under 100 for many different reasons. This reel costs $99.99, so it is just under $100. However, it is easy to use this reel that was first introduced for professional use. The reel features a forward-thinking design, top-performance, and durability that is guaranteed to last for years to come with regular and consistent use.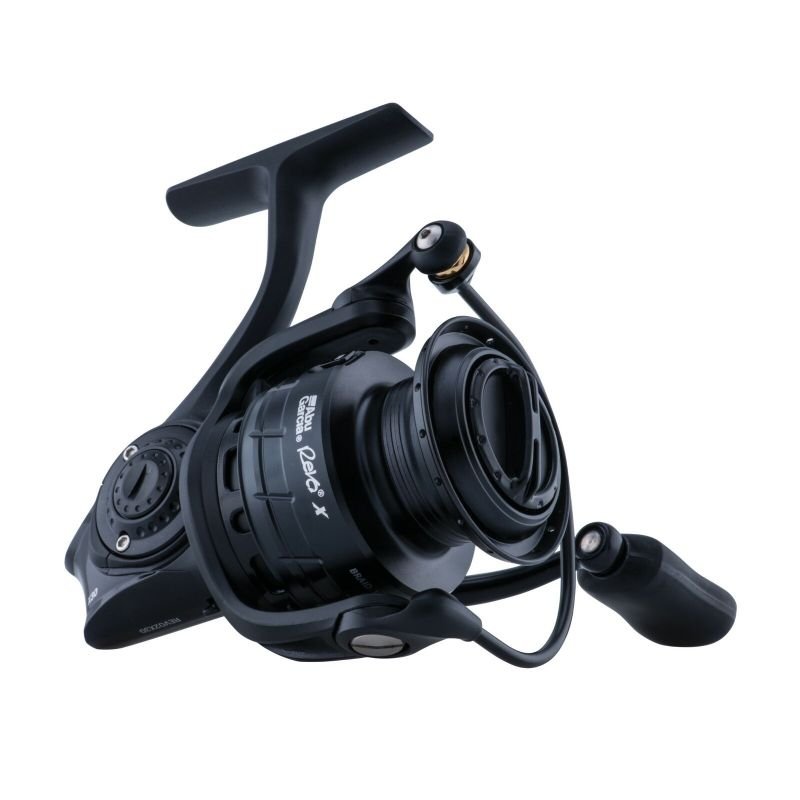 Features:
Increased Corrosion Protection with 1 Roller Bearing + 6 Stainless Steel HPCR Bearings
Smooth & Reliable Drag Performance with Carbon Matrix Hybrid Drag System
Better Control of Fishing Lines (all types) with the Rocket Line Management System
Lightweight Graphic Rotor
Gears are Housed in Perfect Alignment with Im-c6 Body Design that Combines X-Crafty Gearbox Design with a C6 Carbon Body
Why I Picked the Abu Garcia Revo X Spinning Reel
I chose the Abu Garcia Revo X Spinning Reel as the best spinning reel under 100 because it is durable and has all the features and designs of more expensive reels. This low-profile reel has set the bar for others with a performance level that is far superior to many more expensive reels.
Pflueger President Spinning Reel Best Freshwater Spinning Reel Under $100
The Pflueger President Spinning Reel costs less than $50 and has all the features that you desire for superior freshwater fishing. This reel is known for its superior durability as it has a tough build design. It also is known for a smooth performance as you reel in your latest catch.
Features
Aluminum Frame, Handle, and Cone
Pins – Dual Titanium
System – 5 Bearing
Spool Applied Drag
Ant-Reverse is Instant
Soft Touch Knob
PENN Fierce III Spinning Reel Best Saltwater Spinning Reel Under 100
At just under $80, the Penn Fierce III Spinning Reel is a top-quality spinning reel that performs best in saltwater. It features a full metal body that helps keep the gears aligned with heavier fish species, a smooth retrieve from the techno balanced rotor, 4 stainless steel ball bearings that are shielded, and an instant anti-reverse bearing. The reel offers superior features that will guarantee that you get the best catches.
Features 
Superior Alignment that Conquers the Heaviest Loads
Smooth Retrieves with the Techno-Balanced Rotor
4 Stainless Steel Ball Bearings
HT-100 Carbon Fiber Drag Washers
Superline Spool
Instant Anti-Reverse Bearing
Line Capacity Rings
Heavy-Duty Aluminum Ball Wire
Shimano Sedona FI Spinning Reel Best Bass Spinning Reel Under 100
The Shimano Sedona FI Spinning Reel starts at just $69.99 and is my top pick for a bass spinning reel.  The construction of a spinning reel is very important when you are considering bass fishing. This is because you want to make sure that it is constructed from durable materials. You will also need to look for a reel that is not too heavy. This reel works well in all water conditions including those that are the heavy cover and those that are clear water.
Features
Affordable Price
Upgraded Performance
More Durable, Lighter, Faster, and Stronger
Magnumlite Rotor is Super Lightweight
Extra-Durable with Cold-Forged Hagane Gears
Increased Drag Power
Shimano Sahara FI Spinning Reel Best Shimano Spinning Reel Under $100
With the Shimano Sahara FI Spinning Reel, many considerations make it the best Shimano spinning reel under $100. This reel costs between $79.99 and $89.99 depending on options. This reel is known for being hard-working and being a great value. It features handle rotation that is effortless even when the load is heavy.
Features
Very Smooth Power
Affordable Price
Durable
High-Quality Performance
Graphite Sideplate, Frame, and Rotor
4+1 5-Bearing System
Shakespeare Ugly Stik Gx2 Spinning Rod and Reel Combo Best Spinning Rod and Reel Combo for Under 100
The Shakespeare Ugly Stik Gx2 Spinning Rod and Reel Combo is the best spinning rod reel combo for under 100. This fishing rod is not only durable but can withstand all types of fishing. The construction features fiberglass and graphite. A clear tip helps improve the responsiveness and strength of the rod. This lightweight rod features a lightweight EVA grip that helps provide comfort when you are on a long fishing trip.
Features
Available in Different Lengths
EVA Grips that are Durable
Oversized Handle Knob and Spinning Wheel Made from Graphite
Aluminum Spool that is Extra-Durable
Features of the Best Spinning Reels
There are many different features that you might be looking for if you want the best spinning reels. While you can pick up a spinning reel at most big box stores or any sporting goods store, some are far superior to others. If you want to be sure that you are getting the best value for your money, then you will want to be sure that you have checked these features.
Light Lures and Light Lines – There are many advantages of using a spinning reel, the main one is that they are very lightweight. This means that you have less chance of suffering from fatigue. You are also able to better cast the line. It's so easy that I recommend these types of fishing rods and reels to beginners who have no prior fishing experience.
All Experience Levels – While these reels are often given as the best choice for beginners, that does not mean that they are only for beginners. Every fisherman(woman) can benefit from having a spinning reel as part of their fishing gear. The reels are easy to operate and have powerful performance levels that make them a great addition for anyone who wants to fish.
Versatile – These reels are very versatile. They can be used to fish for a wide range of different types of fish. If you prefer a specific type of fishing, be sure to check out my recommendations above for the best options.
What You Must Look for in a Spinning Reel Under 100
Many fishermen (and women) find that it can be difficult to decide which spinning reel is the right choice for their needs. There are so many great reels on the market that finding the best one requires the individual to test and try options that are recommended for their needs. In the past, most fishers preferred the standard baitcaster reels, but today nearly all fishers prefer spinning reels.
Here is a quick look at the top considerations that you should make when purchasing a new spinning reel.
There are many different features and benefits that you will need to be aware of when shopping for a spinning reel. That being said, these are some of the different options that you must consider and have a basic understanding of before making your choice.
The Drag System – One of the first considerations that you should make with a spinning real is to look at the quality of the drag system. This is more important with the larger sized reels as they are used to fish for the bigger fish species that are known to fight when caught on a line. You want a drag system that is smooth and allows for larger fish to be caught on smaller lines. The drag should smoothly engage when your hook feels a pull from a fish. If your drag is not smooth, you are likely going to lose the fish as your line breaks off.
Adjustable Drag – There are two different types of drag systems, front, and rear. A front drag system is more common and is controlled by a dial whereas a rear drag system is not as common and is controlled by a knob. The controls allow you to choose the tension by turning the knob or dial. The drag is generally going to be better with a more expensive reel, but all of the reels that I featured are affordable and have a drag system that is remarkably smooth.
Line Capacity & Spool Size – There are typically three or four different sizes of spinning reels. As you increase the size of the spool, the line capacity increases. The spool will have two different line spool capacities, one of which is for a braided line and the other is for the monofilament. Braided lines have a smaller diameter for a higher level of strength. Some spinning reels will come with a second spool to use during an emergency or for different line capacities.
Total Weight & Frame Material – Aluminum, magnesium, plastic, and carbon are the common materials used to make reel frames. The most common materials used are aluminum and plastic. Higher-end reels will feature magnesium and carbon as they are best for their low weight and durability.
Aluminum or Carbon Reels – I recommend that you choose reels that are made from aluminum or carbon. The reason that I prefer these two materials is that the price remains affordable with the highest possible durability and quality. Plastic reels are not going to last as long as they easily break. Magnesium reels are the most expensive category.
Recovery Rate of Line – The line recovery rate is the amount of line in inches that is taken up and back with one full turn of the handle. The spinning reel typically recovers more inches of line with each spin than what would be recovered with a baitcaster.
Bearings – A spinning reel should have between four and five bearings. If there are more, that does not mean that the reel is better. Most master fishermen will tell you that four or five bearings are all that is needed. The bearings help to make it smooth when the handle and spool turn together. The number of bearings does not affect this. The reels that have eight bearings or more have replaced bushings inside the reel with bearings which is not necessary.
Anti-Reverse – The anti-reverse feature in the reel will keep the reel from being able to unwind if it is not intentional. If a reel features an anti-reverse, it is going to be controlled by a switch or lever located towards the butt of the reel. Freshwater reels will typically feature anti-reverse and most people use this feature. For saltwater reels, this is not as common.
Know the Parts of a Spinning Reel
Every spinning reel is made up of eight different parts. The purpose of these parts is to ensure that you can cast your line and retrieve it without tangles. This is what sets the spinning reel aside from different reel styles. The eight parts are:
Reel Foot
Reel Handle
Reel Body
Anti-Reverse Switch
Bail
Line Spool
Spool Release
Drag Adjustment & Line Roller
Weight of Spinning Reel and Body
The reel body can be made from graphite or aluminum, aluminum is more durable, but graphite weighs less. Some reels are a combination of the two. The reel body should be solid and there should be no parts that are flimsy or do not move smoothly. Finally, consider the weight of the reel as it can lead to fatigue if you choose a heavier reel.
Know the Reel Size You Need
A reel will have a line size. This is important to note. If you are fishing for smaller fish primarily, then choose a line size that is appropriate for that need. However, if you are fishing for larger fish, you should choose the line size accordingly. You will want to purchase a smaller reel for lighter line weights and a larger reel for heavier line weights. 
Consider the Type of Drag System that You Prefer
Spinning reels have two types of drag systems. The drag system applies pressure to a fish that has been hooked and allows for the line to be let out as the fish struggles. This helps you not lose fish. The two types of drag systems are front drag and rear drag.
Front Drag System
Multiple Large Drag Washers
Increased Durability
Increased Performance
Rear Drag System
Easier to Access when Fighting a Fish
Cannot Withstand Larger Hard Fighting Fish Species
Each of these considerations can help you find the reel that you want for your next fishing trip.
A Quick Look at the Top 9 Spinning Reel Options
Finding a top-quality spinning reel is simple. There are many options available that allow you to purchase the best spinning reel under 100. Here is a list of my top 9 options for the spinning reels.
Top 9 Spinning Reels Worth to Mention 
#9 – Shimano Sienna FG Spinning Reel – The Shimano Sienna spinning reel features a superior design that is still affordable at far less than $100. This reel features a super stopper II anti-reverse system, propulsion line management system, a design that is well-balanced and ergonomic for comfort on the longest days of fishing, the ability to work in both hands with the ambidextrous retrieve, and 3+1 ball bearings.
#8 – Penn 1338215 Battle II 1000 Spinning Fishing Reel – The Penn Battle II spinning reel is the preferred reel for many professional fishers. The biggest performance feature that the experts love is that it is very lightweight. It is also durable, features a high range spinning reel quality that is perfect for all types of large saltwater fish. It has a full metal body, rotor, heavy-duty aluminum bail wire, and a metal side plate too. 
#7 – Shimano Spirex Fg Spinning Reel Model Sr4000fg – The Shimano Spirex Fg spinning reel makes I list for its value, excellent anti-reverse system, and solid jigging performance. It is a consistent reel that will continue to get the job done. One of the things that sealed its place on I list was the fact that it is so affordable and made with high-quality materials in a very affordable package.
#6 – Okuma Ceymar Spinning Reel Model C-30, 145yd-8lb – The Okuma Ceymar Spinning Reel has been praised for its compact size, sufficient drag with a multi-disk dragging system, superior anti-reverse roller bearing, top-quality aluminum spool, comfortable grip that features an ergonomic design that is comfortable and healthy for your hand, and diverse range of sizes. It is not for use in saltwater and saltwater can damage some of the parts of the reel.
#5 – Shimano Sahara FI Spinning Reel Model SH2500FI – This is I choice for the best Shimano spinning reel under $100. It is a top-quality spinning reel by the trusted Shimano brand that costs less than $100.
#4 – Shimano Sedona FI Spinning Reel Model SE2500HGFI – Shimano's Sedona FI Spinning Reel is the best bass spinning reel under 100. This reel is notable for bass fishing because it features the functions that make catching bass easier.
#3 – Penn Fierce III Spinning Reel Model REVO2X10 – The Penn Fierce III is I pick for the best saltwater spinning reel under 100. It is a great choice for saltwater fishing with its superior strength and durability that can handle the pull of the more aggressive fish that are found in saltwater. 
#2 – Pflueger President Spinning Reel Model PRES8P40X – This was I top choice for the best freshwater spinning reel under $100. The Pflueger President spinning reel is one of the most affordable on I list and offers the full quality that some of the more expensive models do.
#1 – Abu Garcia Revo X Spinning Reel Model REVO2X10 – I ranked the Abu Garcia Revo X as the best spinning reel under 100 for its' features, innovative design, and superior performance. The reel is one that can be used for many different types of fish species, as well as working in both freshwater and saltwater conditions.
Q&A 
What is the Difference Between the Best Saltwater Spinning Reel and the Bass Spinning Reel?
The best saltwater spinning reel could double as the best bass spinning reel. However, the best bass spinning reel might not always double as the best saltwater spinning reel. This is because some freshwater spinning reels are made from materials that saltwater could damage. When shopping for both of these you want smooth bearings and turns, a line lock system that is foolproof, and the ability to hold larger sized fish with more pull and fight in them.
Are Spinning Reels Good for Bass Fishing?
Due to the weightlessness of the baits and lurers that typically weigh .25 ounces or less makes the spinning rod and reel the winner for distance. While many would argue that baitcasters are better options for bass fishing, there are just as many that would argue that a spinning reel can get the job done. The reality of this is that it depends on user preference for most people.
Conclusion – Why You Need the Best Spinning Reel Under 100 Dollars
Finding the best spinning reel under 100 dollars is simple. There are many options available. Before you purchase, you will need to ask yourself the following questions and then you will be able to find the perfect reel. Will I be using the reel in both freshwater and saltwater? Will I be using the reel for light or heavy fish? Are the fish that I am fishing for prone to fighting and tugging? Knowing how you plan to use the reel is essential to choosing the right one.