As an Amazon Associate, I earn from qualifying purchases. Some of the links below might be affiliate links. This helps me to run the site's maintenance.
Baitcasting reels have adverse advantages to anglers and help them get large fish with methods that can't be done by spinning reels. These reels also have the power and drag to perform for long hours of fishing. If you're new to baitcasting reels, you might want to stay a little longer as I unravel my top picks for 2022. 
In this guide, I'll help you understand the different performance features giving you an easier time making the right decision. The reels would make an excellent choice for both freshwater and saltwater fishing applications. Here's a breakdown of my top baitcasting reels.
Piscifun Phantom Baitcasting Reel (Best Baitcaster for the Money)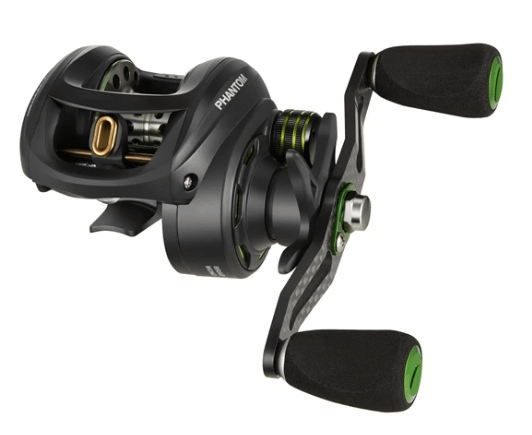 While most people are new to Piscifun, the reels have solid reviews and an excellent carbon build. The carbon body makes it lightweight and durable for long hours of fishing. It has a corrosion-resistant ball bearing, streamlining baitcasting, and extending the lifespan of the reel. It weighs 5.7 Oz and with a drag of 17 pounds, it can pretty much be a nice selection for saltwater fishing. 
The Aircraft-grade aluminum alloy used to make its main gear makes the performance of this fishing reel a piece of cake. The Phantom can do continuous casting as it comes with a 7.1:1 brass gear ratio which is also available as both left and right-hand models. 
Why I Picked The Piscifun Phantom Baitcasting Reel 
First off, I'm highly convinced Piscifun Phantom is the best baitcasting reel under $100. The price tag gives anglers more value and I'd recommend this reel to any newbie and experienced anglers alike. The baitcaster reel is perfect for a catch that might need long runs and with an anti-reverse system, you'll be relieved of unnecessary setbacks. 
Features
CNC Hollow Spool 

Double Anodized Harden Main Gear and Shaft 

Rugged Carbon Fiber Drag System 

7.0:1 Gear Ratio 

Combat Pad on Thumb Bar 
Pros 
Efficient casts
Great value
Corrosion-resistant
Lightweight, but sturdy body
Abu Garcia Revo X Low Profile (Best Baitcasting Reel For Beginners)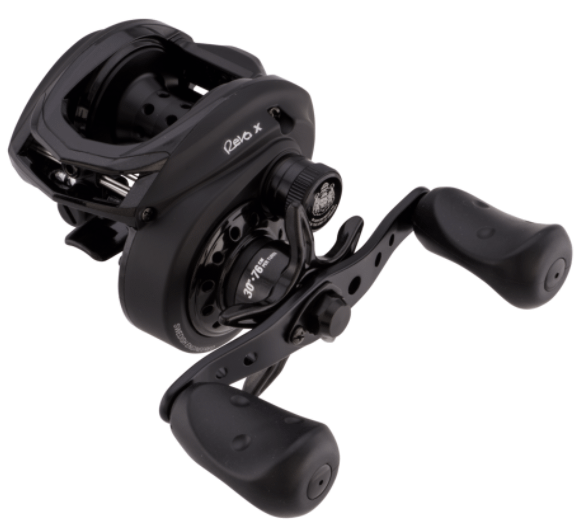 The Abu Garcia is a beast in reeling bass and has a sturdy Vendetta rod that allows this to happen. The black finish looks professional and will last since it is made of an aluminum body. The Revo X has a total of 10 bearings which is pretty standard and guarantees smooth casts. Most people would see the brakes as the same as the previous release, but every single internal part has been modified for better performance. The designers have added a D2 gear design, recurved handles, and MagTrax braking system. 
It is an ideal reel for beginners and expert anglers more used to smooth drags, even with heavier catches. The Abu Garcia reel is easy to use, adjust, and comes with a reasonable price tag. 
Why I Picked The Abu Garcia Revo X Low Profile 
The Abu Garcia Revo X is probably the best overall baitcaster reel on the market today. I figured it stands out from its competitors due to several factors. First and foremost., it's lightweight and at the same time holds a drag of up to 20 pounds. But even when handling heavy bass, its spool design ensures that everything is as smooth as possible. The Carbon Matrix drag system is something I fancy in my reels as there is a consistent drag all through. 
The titanium-coated line guide is an excellent upgrade and seasoned anglers should immediately notice a minimized line breakage when using the Abu Garcia. I consider this reel a worthwhile investment and could last years, though the short-term purchases may surpass the average price of baitcasting reels. One can easily notice Abu Garcia baitcasting reel from its sleek design, lightweight appeal, and comfy feel that should improve any angler's fishing skills. 
Features
Duragear brass gear 

C6 Carbon side plates 

9+1 steel ball bearings

6.6 Oz
Pros 
Smooth drag
Great brake system
Easy to operate
Cons 
Can be a little bit expensive for new anglers
Shimano Curado  (Best High-End Baitcasting Reel)
Next up is the Shimano Curado baitcasting reel. It is the most popular of all Shimano reels and there is no doubt why so many fishermen like it. Perhaps it is the I-DC4 digital braking system that highlights its performance. I-DC4 is a miniature microcontroller that monitors spool speed so that it measures your brake pressures automatically. This allows all types of anglers to reel without any difficulties adjusting to their efficiency. In a nutshell, a fisherman reeling with a jig wouldn't have to adjust if they cast with a smaller bait. 
With zero adjustments, the DC comes as the most efficient baitcasting reel. The reel comes with a maximum drag of 11lbs and is available in 8.5,7.4, and 6.2 gear ratios. Plus, it has an all-aluminum body frame and micro-module gears for better performance. 
Why I Picked The Shimano Curado DC
The Shimano Curado has been at the forefront of reel making for years and most of its products have stood the test of time. The Curado DC is a special piece and one that is very hard to beat. It's a little chunky than Abu Garcia Revo X, but it is compact, casts like a beast, and works on both fresh and saltwater. I picked the DC due to its intelligent braking system, but the Mono Line capacity and  PowerPro line capacity is also an interesting upgrade to the reel. The Shimano Curado's handles are huge and have a rubber grip which makes it easy to control the reel. To further improve control, the reel has a Super-Free Speed Spool technology which lessens friction and minimizes vibrations on the spool.
Features
Hagane Body 

I-DC4 Digital Braking System 

Multiple gears 

5 ARB ball bearings 
Pros 
Intelligent brakes 

Smooth spool control 

Salt and freshwater use
Cons 
Not ideal for beginners 

Low drag (11lbs)
Lew's Custom Speed Spool (Best Baitcasting Reel Under $200)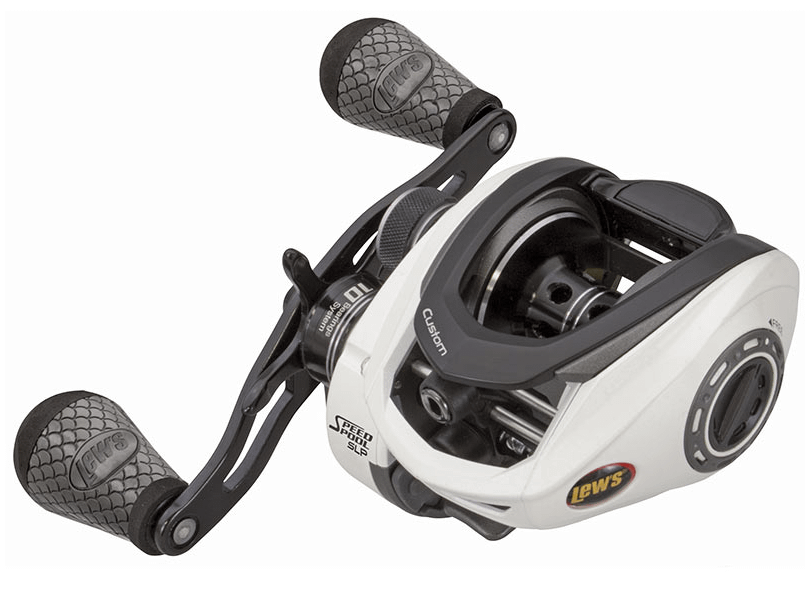 The Lew's Custom Speed Spool is a decent baitcasting reel with a techy frame built with carbon materials. The line guide is made of zirconia while both the gearing and drag control have aluminum frames. It is a light reel with duralumin spools that further enhance its lightweight appeal.
The Quietcast Adjustable Centrifugal Braking System works efficiently for anglers and has a 4 or 5 tension setting that will work well under different weather conditions. While it is a bit smaller than the predecessor, Hyper Mag, it is smooth and one can cast without wear. This is your best high-end fishing reel as it comes with top-quality 
Why I Picked The Lew's Custom SLP Pool  
The Lew's Custom SLP had to be on this list as it was a lightweight reel weighing at just 4.9 ounces. The weight alone is a highlight because, unlike most models, you'll not hear funny noises when operating or a cheap feel. It is a baitcasting reel that is built to outlast tough bass and other stubborn fish. The reel rests perfectly on your thumb and it is easy to operate under duress or in harsh weather conditions. It is very comfortable and has both right and left-hand options. You can easily hold 90 yards of a 10-pound line which means it is perfect for lighter baits such as crankbaits, topwaters, and jerkbaits too. 
Features
Tanso Tech frame 

Adjustable 6-pin 27-position ACB braking 

10+1 bearing system 

External lube port 

Speed Dial line indicator 
Pros 
Lightweight at just 4.9 oz 

Titanium-coated zirconia line guide 

Comfortable grip
Piscifun Torrent (Best Cheap Baitcasting Reel )
The Piscifun Torrent is an interesting baitcasting fishing reel. While it is bashed as a popular model for beginners, the reel has features good for seasoned anglers. Plus, the Piscifun Torrent is one of the cheapest baitcasting reels I've personally come across. 
Its CNC brass system is well-designed and has stainless steel springs that will definitely last for long without wear. This brass system has brought an upgrade to the overall gear; one that is noticeable at first use. There is also a 60S Lubricant design that allows anglers to add oil into the reel without deconstructing the whole piece. The reel also has a magnetic braking system that gives anglers pinpoint accuracy and minimizes the likelihood of a bird's nest. 
Why I Picked The Piscifun Torrent 
While my first glance at the Piscifun Torrent was the low price tag, I came to realize it had some features worth more than its cost. Most baitcasting reels have a complex build, but the Piscifun Torrent is simply designed to fit even those who haven't seen a fishing reel before. It is a powerful baitcaster with an 18lb carbon fiber drag that can handle big bass without fear. 
The low-profile baitcasting reel has a 7.1:1 gear ratio and performs at high speed without noise. The ball bearings are perfectly shielded from water, salt, and oil particles. This means that you can use the Piscifun Torrent on both fresh and salt water. 
Features
7.1:1 GR 

Side plate oil port 

Max drag 18lbs 

5+1 Shied bearings 

Magnetic brake system
Pros 
Affordable 

Can handle abrasive environments 

Great for beginners 

Stable winding shafts 

Noise-free gear
Cons 
Not suitable for heavy rod 

Does not come with oil
KastKing Speed Demon Baitcasting Reel (Best Baitcasting Reel With Fast Gear Ratio)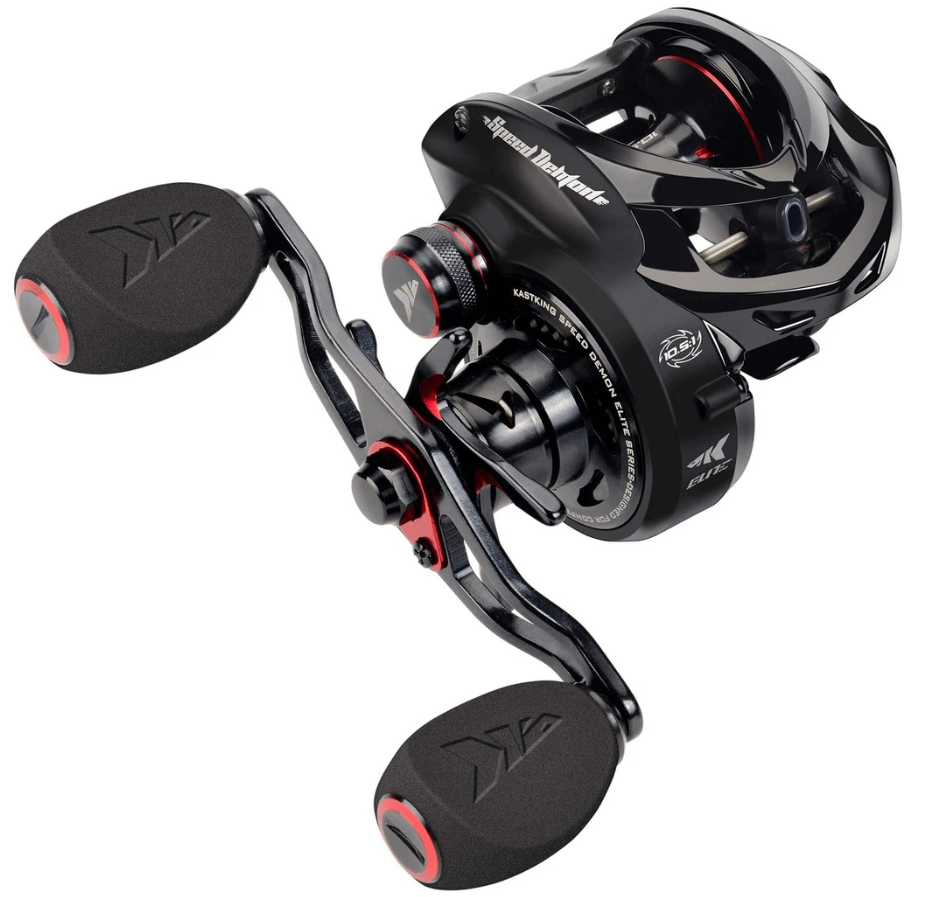 For a budget-friendly deal, the Kastking is worth checking out. It is a great baitcasting reel for new anglers and does not compromise a lot on quality. Starting off with a 9.3:1 gear ratio, the baitcaster is smoother than most reels at that price range. The Kastking's EVA foam knobs ensure there is a tight grip, even in wet conditions or when covered in slime. 
At 8.3 Oz, it is still comfortable but it's not the lightest baitcasting reel you can have around. The KastKing comes with 12+1 bearings working smoothly even at its maximum drag of 12lbs. Its ease of movement makes the Speed Demon one of the fastest baitcasting reels in the world. You should easily catch steelheads, salmons, and other big fish with this piece. 
Why I Picked The KastKing Speed Demon Baitcasting Reel
The KastKing is among our 2022 list of best baitcasting reels because of a couple of factors. First, it has a long casting distance and can pretty well handle any lurer you put it up to. It will hold even on heavy spinnerbaits, and bombcasts without too much maneuvering. The Speed Demon has a professional look with a nice matte black finish on top. 
Spooling is also easy and even beginners won't have to readjust every time they make casts. Also, the tension knob is very responsive and a magnetic brake system ensures every cast is perfect. 
Features
9.3:1 gear ratio 

12+1 stainless steel bearings 

EVA foam knobs
Pros 
Reasonably fast 

High gear ratio 

Ideal pick for newbies
Daiwa Tatula TACT100XS Baitcasting Reel (Overall Best Baitcasting Reel)
Daiwa Tatula is an upgraded version of the Tatula family with a compact sturdy design. It is a fantastic reel for beginners because of its smooth grip, and easy-to-handle features. With a TWS-T wing system, there is an enhanced casting accuracy and distance because of the free flow line of the wheel. 
It has a premium look, comes at 7/4 oz, and has a 4-gear ratio that can go up to 5.5:1 for huge catches. The Daiwa Tatula TACT100XS is minimally smaller than the previous model, making it easier to operate the reel and in flipping and pitching instances. 
Why I Picked The Daiwa Tatula TACT100XS
The Daiwa is yet another sleek baitcasting reel I would recommend to anglers of all levels. It is extremely smooth and has a strong enough drag to fish bass, bull reds, or even trouts. The 90mm swept handle is closer to the centerline and you have a better chance of controlling your casts. 
This may not be the cheapest release by Tatula, but it is a baitcasting reel with a premium feel and the best baitcasting reel for starters. The spool may seem small, but it is deep enough to hold the same capacity as its previous model. 
Features
TWS T-wing system 

Carbon drag brake system 

7.4 Oz 

Max drag 13.2lbs 

7+1 Stainless Steel Ball bearings 
Final take
Finding a high-quality reel is crucial. It will give you the freedom to fish without any difficulties. To get such reels, you need to look at the body frame, gear, number of steel ball bearings, and the ergonomic design of the reel. Even if you are a newbie, considering these factors will guarantee an incredible reel with pinpoint accuracy and casting distance. Have fantastic fishing journey!