As an Amazon Associate, I earn from qualifying purchases. Some of the links below might be affiliate links. This helps me to run the site's maintenance.
Do you want to be able to catch the biggest fish? Are you a fan of large lures or techniques that require you to have a greater line capacity? If so, look no further as I share my choice for the best baitcasting reel.
A good low-profile baitcasting reel will have all of the features that make fishing for large fish easy. You never have to worry about how you will pull large bass out of deep water again.
Top Reasons Why You Need the Best Baitcasting Reel of 2021

 
2020 was a whirlwind year with many ups and downs. So, it might come as no surprise that the states are reporting that they have sold record numbers of fishing licenses this year and that more beginners are picking up a pole and reel for the first time. There are some reasons that you might want to pick up a baitcasting reel for your future fishing adventures.
A Quick Look at the Top 12 Best Baitcasting Reels
Piscifun Phantom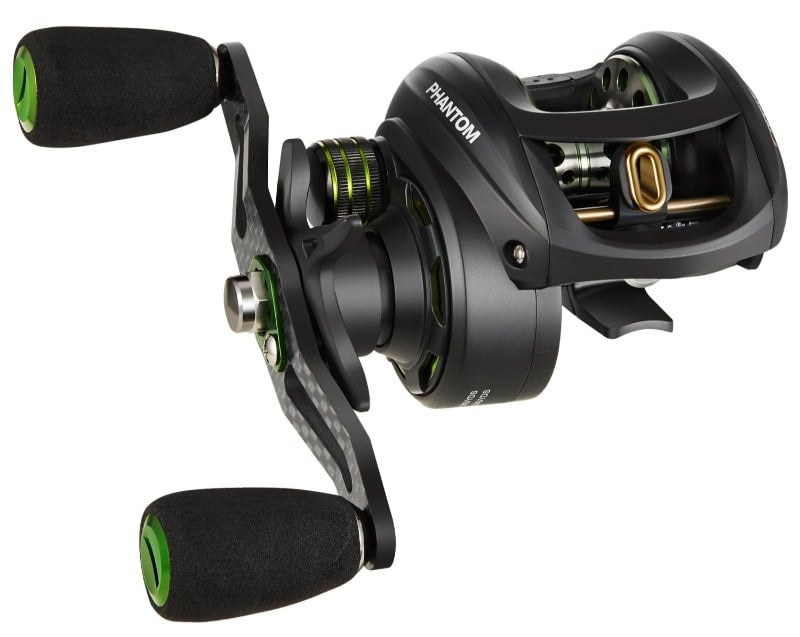 The Piscifun Phantom is my pick for the best baitcasting reel. The reel body is made of carbon fiber and has a gear ratio of 7.0:1 making it quite fast. Here you can read the review.
This is the perfect tackle for those who want bigger catches, tougher fights with bass (or any other fish – I simply love bass), and it has low maintenance requirements; it's made tough and stylish.
I'm sure you'll catch bigger fish with this quality of tackle.
The features of the Phantom with a very reasonable price tag for a reel that can kill performance-wise baitcasters around the 300 dollar mark are some of the points that made it king of the hill.
Pros and Cons
Pros 
Magnetic and Centrifugal Brake System
Carbon Fiber Body
4 Disc Carbon Fiber Drag
The design is gorgeous
Cons 
Easy to get backlashes if you don't adjust the brake properly by removing the cover
I don't like removing the cover to adjust the centrifugal brake
A relatively new brand
It's not all carbon fiber
Shimano Chronarch MGL 150
The Shimano Chronarch MGL 150 almost takes the crown this year. This low-profile option is hailed as being one of the top three baitcasting reels of all time, but it certainly holds its place in the top 3. This is a reel that has a lot of versatile features and is good for a multitude of different fishing conditions.
Pros and Cons
Pros 
The reel features the X-Ship gear arrangement that solidifies both strength and stability.

The Shimano Chronarch MGL 150 features the Dartanium II drag washers that provide the smoothest drag system.

Both internal and external braking options allow for the most comfortable fishing experience.
Cons 
This is another reel that will cost more than some, but I do think that the quality is worth the extra money in this case.

If not rinsed properly after saltwater use there can be issues with corrosion, even with the corrosion resistance that has been built in.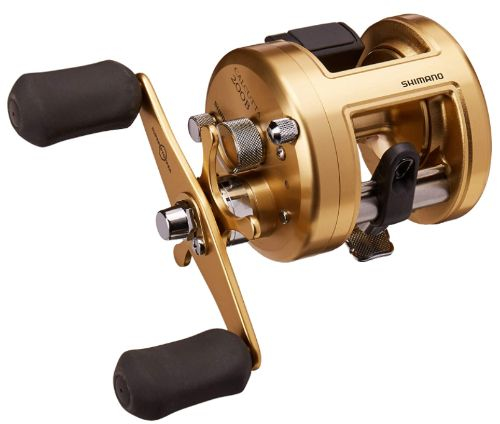 The Shimano Calcutta B is another one of Shimano's top-quality reels that offer the best features and designs for freshwater and saltwater.
Pros and Cons
Pros 
The Shimano Calcutta B has been manufactured to withstand the harshest saltwater conditions without rusting or wearing out.

This is the best all-around reel for all conditions including trolling, bottom fishing, fast retrievals from casting, and more.

A superior line guide that makes the reel functional and simple to use.
Cons
Fishermen/women who have sent their reel in for repairs have often found that the same issue reoccurs after the repair has been made, in particular, the thumb button these often malfunctions.

While I had the repair tool with my reel, several other fishermen/women that I know have not had the tool included with their reels.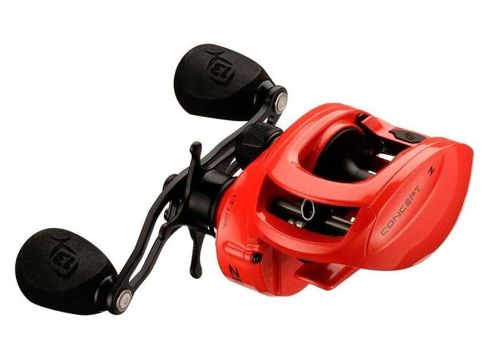 Concept Z from 13 Fishing is one of the most exciting innovations to come from the brand. This reel is not just fun to use, but also fun to look at with bright colors and a unique design. One unique feature of this is that it does not have stainless steel ball bearings like most other baitcasting reels, but instead it uses solid polymer bearings.
Pros and Cons
Pros 
The 13 Fishing Concept Z reel features a special braking system that is comprised of a 6-way centrifugal brake. This allows for very light lures to be cast long distances.

The solid bearing design keeps dirt and debris from building up and causing a reduction in performance.

This is one of the top casting reels as you can cast with accuracy and precision that is not seen with all reels.
Cons 
There is no external access to the brakes which makes this a difficult reel to work on if something becomes stuck or broken.

The waffle spool can be hard to get a line started on and hard to get a line to evenly roll up on when adding a line the first time.
KastKing Rover Round Baitcasting Reel
The KastKing Rover Round is a premium quality baitcasting reel that is available at an affordable price. This reel features a traditional design that is suitable for use in both freshwater and saltwater. 
Pros and Cons
Pros
This is my reel of choice for cheap but has been built to last as it has been constructed from a reinforced anodized aluminum.

The precision gears are made of brass to have continual smooth motions.

A clicker allows you to know how much line you have released into the water.
Cons
The reel has issues with retrieval if there is a lot of weight on the line.

The reel does not cast as accurately as others on this list (but it remains one of the best reels for dropping lines).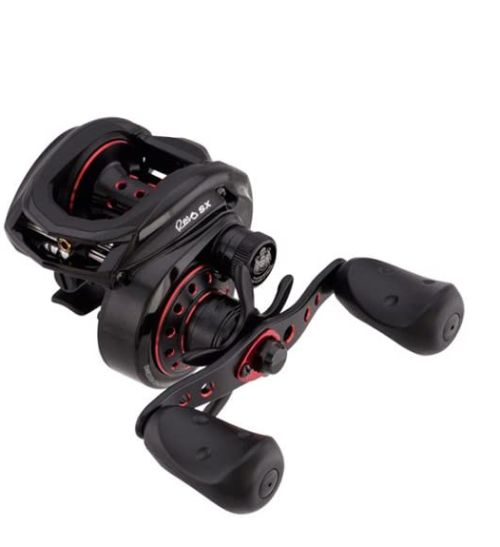 The Abu Garcia Revo SX is a solid choice for baitcasting. This reel is small in size and lightweight making it comfortable for all-day fishing excursions. 
Pros and Cons
Pros 
This is one of the best multi-purpose reels on the market today.

It is very affordable when compared to other baitcasting reels.

The Abu Garcia Revo SX is one of the smoothest baitcasting options and the superior function will not go unnoticed when fishing.
Cons 
There are a lot of plastic pieces that are a part of this reel which means that it is not as sturdy as some other options.

The side plate does not lock as tight as it could or should.
Lew's Tournament MP Speed Spool LFS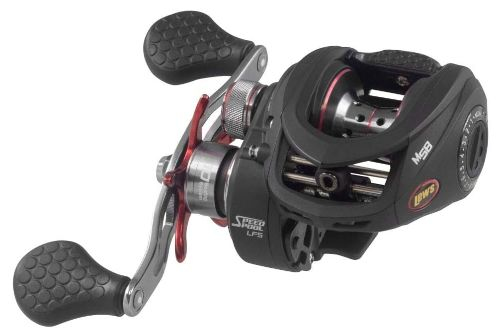 Lew's Tournament MP Speed Spool LFS is everything that most fishermen/women have been looking for. It is a reel that can compete with the highest-priced reels while maintaining its affordability. 
Pros and Cons
Pros 
Lew's Tournament MP Speed Spool LFS features a special forged aluminum frame for maximum protection and superior quality.

It is built for high-speed fishing adventures.

There are four different gear ratios available so every angler can get what they want.
Cons 
The left-handed model is often sold out and hard to find which leads us to question whether or not enough left-handed models were produced.

Many users who have had problems, most notably with the bearings, have found that the customer service team has been hard to elicit a response from.
Abu Garcia Revo Toro Beast Low – Profile Baitcasting Reel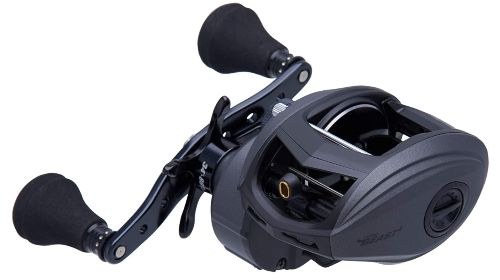 The Abu Garcia Revo Toro Beast is one of the highest quality reels to come from the impressive Abu Garcia Revo line of reels. The reel features a low-profile shape that is easy to hold, is lightweight, and is known for its smooth function. 
Pros and Cons
Pros 
Features a state-of-the-art carbon matrix drag system that keeps your casts, releases, and reels smooth.

Two high gear ratios provide superior function and allow for the angler to have the most control.

The frame is made from a lightweight alloy which allows for superior comfort and durability.
Cons 
Learning how to use the reel can be a challenge as the instructors are not clear or easy to use.

The braking system can be inconsistent, and beginners will find this reel difficult to master.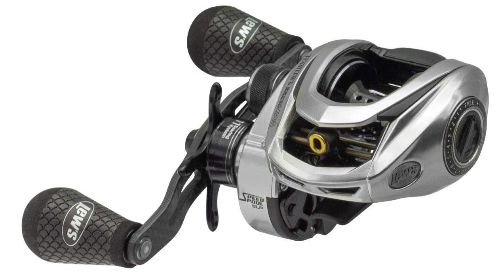 Lew's Hyper Mag LP is a solid choice of a baitcasting reel. The construction of the reel relies on many special advancements and innovations. Sensitivity and comfort are the two features that stand out with this reel, making it a perfect choice for those who are looking to experience more with their fishing. This reel can take you from the casual fisherman/woman to the experienced angler overnight. 
Pros and Cons
Pros 
Lew's Hyper Mag LP is very lightweight at just 5.4 ounces.

The reel features a highly adjustable braking system that has four pins that can be configured into twenty-seven positions.

If you have a problem with the reel, Lew's has one of the best customer service teams of any fishing equipment company.
Cons 
This reel is more expensive than most on my list.

You have to choose specifically between a right and a left-handed model.
Daiwa Tatula Baitcasting Reel
This Daiwa Tatula Baitcasting model is available in multiple gear ratios. It is known for its superior smooth casts. It is a popular reel that is a favorite among many seasoned anglers. 
Pros and Cons
Pros 
The reel is very lightweight and helps reduce fatigue.

It is is one of the smoothest reels that I have operated.

Accurate casting is no problem with the superior quality of the TWS casting system.
Cons 
The max drag for this reel is just 13.2 pounds which means that you cannot catch very large fish with this reel.

This reel is more susceptible to corrosion buildup than some of the others on the list and has to be taken care of a bit more precisely after saltwater fishing.
The Shimano Curado DC is one of the top best baitcasting reels for several reasons. This is the newest model of a trusted baitcasting reel. It has an alloy body and cross carbon drag. It also features the I-DC4 digital braking system, which works to automatically adjust while the reel is in use. 
Pros and Cons
Pros 
The reel is known for its special digital braking system that helps create the smoothest long casts.

The reel is known for its accuracy and in allowing anglers to achieve maximum distance with these casts.

It features a line guide that allows for the line to smoothly move when being cast or reeled in.
Cons 
The reel is heavier than most of the ones on this list at 7.8 or 7.9 ounces.

The reel is factory tuned and making adjustments if it is not tuned properly can require some patience to get used to.
KastKing Royale Legend Low-Profile
The KastKing Royale Legend Low-Profile baitcasting reel is one of the best options for someone new to baitcasting reels. It is smooth and efficient and is very easy to use. It is also cheaper, although it does weigh a little more than most at 7.5 ounces. 
Pros and Cons
Pros 
The KastKing Royale Legend Low-Profile reel has a smooth cast that is very accurate.

The reel is perfect for beginners and is easier to use than most of the baitcasting reels that are featured here.

It is available in a multitude of colors making it a fun reel to own.
Cons 
This reel is not as durable as many others on my list because it is not made from materials that are as sturdy as other reels are.

When comparing the KastKing Royale Legend Low-Profile reel to other reels on this list, it felt cheap.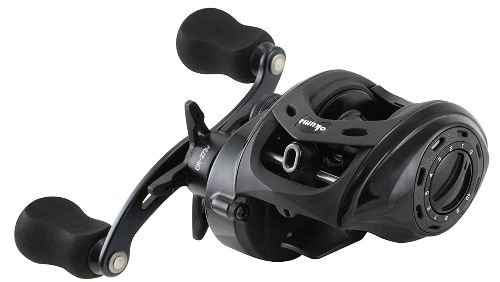 The Okuma Cerros is one of the most notable baitcasting reels at a low price point. This budget-friendly reel offers a unique 10 bearings that will give you complete control over your casts. 
Pros and Cons
Pros 
The Okuma Cerros features a dual casting control that is not typically seen on budget reels.

The reel has a magnetic brake system that allows for fine-tuning your cast and reeling.

The drag system features a micro-click feature that helps move a drag without any problems, no matter how big the fish is or how hard it is fighting.
Cons 
The reel might not be as smooth as some of the more expensive options.

The bearings can begin grinding if the reel is not properly maintained.
You Can Use a Heavier Line

 
One of the top reasons that baitcasting reels are popular is that they allow the fisherman/woman to use a heavier line. This allows for the potential to catch heavier fish. A line is rated for the heaviest weight of a fish that it will hold. If you choose a line that is for lighter fish, the line will snap under the weight of a heavier fish.
If you choose a line for a heavier fish, there is no problem with catching lighter fish. 
A Baitcasting Reel Allows for Longer Casts

 
Every angler wants a nice even cast that is accurate when they are fishing. Baitcasting reels are known to help the angler achieve superior casting distance while also improving the accuracy of the casts.
Limit the Amount of Line Twist You Experience

 
One of the features that was important when choosing the winning reel was that the line did not twist when being cast or reeled in. Most baitcasting reels do not have issues with line twisting.
You Will Have More Power

 
The biggest difference between casting reels and spinning reels is the amount of power that you have. You can apply more torque and power when casting the reel as well as when reeling in your catch with this type of reel. Just be sure to study the max drag so that the weight of the fish you attempt to catch will not break the reel.
Experience the Most Control

 
Having control when fishing is important. Many find that the level of control when using a baitcasting reel compared to a spinning reel is one of the advantages that they can't pass up. As you become more proficient, you will see your casts become highly accurate.
The Most Important Features of a Baitcasting Reel

 
To find your best matching reel, you have to consider what features are most important. The following are just some considerations to make. 
Construction

– You should pick a reel made of high-quality materials which include alloy or aluminum frames and metal fears made from stainless steel or brass. 

Round or Low-Profile

– This is all based on user choice, but most anglers who prefer to fish in saltwater like the round design while anglers who prefer freshwater like the low-profile options. 

Bearings

– The best bearing protection for saltwater is to be sure that your reel is sealed. Look for high-quality bearings to be sure that they remain smooth. 

Line Guide

– The line guide should be functional and should allow you to fine-tune the line to the specifications that you need. 

Braking System

– There are two general types of brakes. A centrifugal system puts pressure on pins to create friction against the spool body. Magnet bakes work by allowing the user to turn a knob. Dual brakes feature both with the centrifugal brakes engaging at the beginning and the magnet brakes engaging at the end. 

Drag

– The maximum drag is the largest weight of fish that you can safely catch without doing damage to the reel.
People Also Ask
What is a Baitcasting Reel?

 
A baitcasting reel is sometimes referred to as a casting reel. It is a reel that has a revolving spool mounted in a frame with a button on the rear side of the frame to free the spool allowing for easy casting. A baitcasting reel also features a side-mounted handle that allows you to retrieve the line after it has been cast.
How Do You Use a Baitcasting Reel?

 
A baitcasting reel is used by casting a line into the water where you hope to catch fish. The reel allows for the bait to go further when cast with better accuracy than other reels.
Closing
Knowing how to find the best baitcasting reel is important for anglers who want to take their fishing to the next level. Purchasing a rod and reel that you will love is possible, but first, make sure that you have read my guide and know which reel is going to be perfect for what you want.