As an Amazon Associate, I earn from qualifying purchases. Some of the links below might be affiliate links. This helps me to run the site's maintenance.
If you're new to angling (like I was at some point), I bet you're still figuring out the various types of fishing wheels. But, hey, it's always the case for every newbie. Finding the best fishing reel can make or break your weekend in the waters. Whether it is freshwater fishing or fishing in salty waters, getting a good grasp of your gear will come in handy. 
I usually wet my lines during spring. It's such a lovely time to fish as the school is ready to bite after a long winter season. Otherwise, fishing anytime between April and August can get your lines hooked up quickly. Now, let's take a look at the best fishing reels, shall we? 
In this review, I've narrowed down a list of the best fishing reels that would be great for any angler – newbies to experts. I have chosen brands that have been around for quite some time with promising new brands that have good fishing reels.
Top 5 Fishing Reels
Best Spinning Reel: Piscifun Carbon X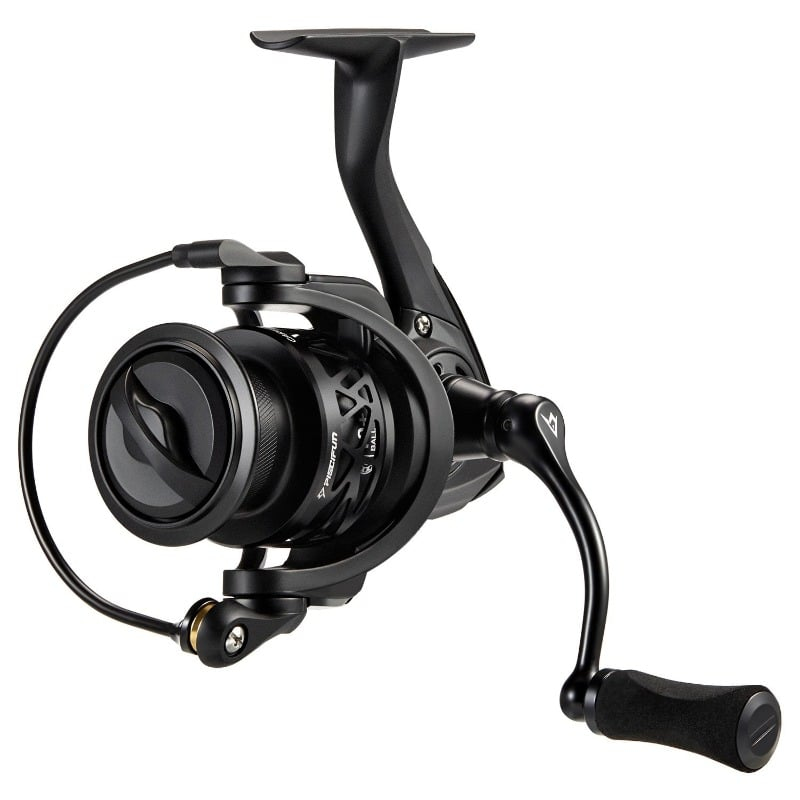 Piscifun has always been a leader in providing top products for their customers. And the Piscifun Carbon X is no different. It is much better than what you see on listings. The first noticeable feature of my top fishing reel is the smoothness. At a gear ratio of 6.2:1, expect pretty fast-paced fishing. It allows quicker casting and takes a shorter time to manipulate that bass from underneath the waters.
Carbon X has 10+1 stainless steel ball bearings that increase mobility and streamlined movement while fishing to make it even smoother. 
As the name hints, the Carbon X features an all carbon fiber build on side plates, rotor, and the rest of the body, trimming its total weight to just 7.8 ounces. That's light enough to wet the lines for a couple of hours without feeling clunky or uncomfortable. The lightweight fishing reel is sturdy as well, so don't be afraid of catching stubborn targets. 
If stubborn targets are not an issue, how about heavy ones? The Carbon X has an advanced drag system consisting of three top-tier oversized carbon washers that carry a capacity of 33 lbs of drag power. In short, 33lbs is the maximum weight of a sea monster that the Carbon X can drag, which is pretty huge.
Though the drag power is incredible, be careful not to rip off its mouth. For its price tag, it is a must-have tool for beginners and seasonal anglers.
The unique features of Carbon X quickly made this fishing reel our best all-around spinning fishing reel.
Why I Picked The Carbon X
In this list of best fishing reels for 2022, I chose the Carbon X as my top pick for a number of reasons. It is a fit fishing reel with smooth contours, has a smoother drag than reels at the same price, plus the tool is very light. I have seen other similarly priced reels but lack a thing or two. The Piscifun Carbon X is designed to work both in freshwater and salty water with versatile applications for travel or hiking.
Features
Increased Corrosion Protection with 1 Roller Bearing + 10 Stainless Steel Salt Rated  Bearings
Crip and pleasant clicker to get a premium feel.
Easy to re-assemble for maintenance.
High Strength Carbon Fiber Rotor
Reinforced Carbon Fiber Frame
| Size | Gear Ratio | Bearings | Max Drag | Weight | Line Retrieve | Braid Cap. | Mono Cap. |
| --- | --- | --- | --- | --- | --- | --- | --- |
| 1000 | 5.2:1 | 10+1 | 8.8lb/4kg | 5.7oz/162g | 22.4in/57cm | 10lb/110yd | 6lb/100yd |
| 2000 | 6.2:1 | 10+1 | 22lb/10kg | 7.8oz/220g | 30.7in/78cm | 15lb/150yd | 8lb/120yd |
| 3000 | 6.2:1 | 10+1 | 22lb/10kg | 8.0oz/227g | 33.5in/85cm | 20lb/165yd | 10lb/140yd |
| 4000 | 6.2:1 | 10+1 | 33lb/15kg | 9.6oz/272g | 35.8in/91cm | 30lb/270yd | 12lb/215yd |
Best Baitcaster: Piscifun Phantom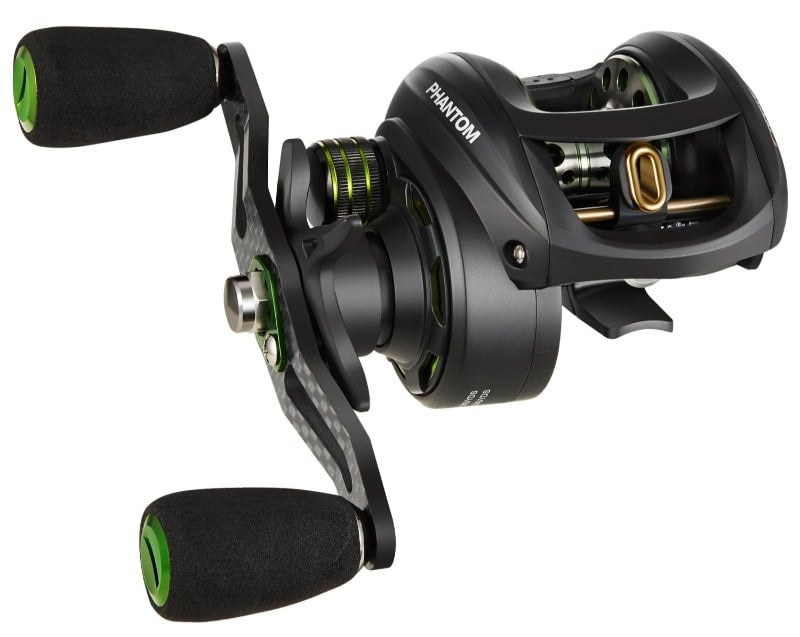 The Piscifun Phantom is a compelling fishing reel. It has the right balance between price and power. The fishing reel will surely last for long due to its high-tech materials and a carbon-fiber body. It's super light and weighs 5.7 ounces- an ideal weight to carry around and fish with ease for hours. The reel's grip is coated with rubber to help you feel comfortable while scouting for bass. 
Apart from its ergonomic design, the Piscifun Phantom has high-level performance features such as a 7.0:1 gear ratio. This means you can accurately tug a trout from a distance of up to 150 yards. To increase the gear system's durability, manufacturers at Piscifun Phantom added a 6 ball bearing system and a clutch system, both with corrosion resistance. The gear has interesting but powerful braking systems. The reel has both an external magnetic brake system and an internal centrifugal brake system that will come in handy when dealing with unpredictable weather areas. Also, the clutch works smoothly, so you won't hear any unnecessary noise when applying brakes. 
The Piscifun Phantom reel has a unique Duralumin spool that picks up speed faster than most models. You can spin the high-quality fishing reel with lighter handle lines without compromising on the power. The titanium line guide is away from the braid-ready spool to avoid friction, providing an excellent casting performance. 
Why I Picked The Piscifun Phantom 
The Piscifun Phantom is another awesome baitcaster reel and I had my eyes on it due to its incredibly lightweight build. Its carbon fiber construction means you'll use the reel for some time before seeing any signs of wear. Both right and left-handed anglers will have a great time using this reel. 
No one would imagine such a  light-looking reel would have drag as much as 17lbs. The carbon fiber drags add sturdiness and power. It is a perfect reel for anglers looking to refresh their baitcasting skills or beginners as well.
Features
4 Disc Carbon Fiber Drag
2 Brake System – Centrifugal and Magnetic Brake
High-Gear Ratio
Full Carbon Fiber Body
| Gear Ratio | Bearings | Max Drag | Weight | Line Retrieve | Braid Cap. | Mono Cap. |
| --- | --- | --- | --- | --- | --- | --- |
| 7.0:1 | 6+1 | 17lb/7.7kg | 5.7oz | 30.3"/77cm | 30lb/120yd | 10lb/120yd |
See How Well It Performs
Check out the test of this Piscifun Phantom. The tests show the high performance of this reel at a great budget.
A Baitcaster That Will Never Disappoint: Abu Garcia Pro Max Low Profile Reel
The Abu Garcia Pro Max is a performer-type of reel. The fantastic fishing reel comes in lightweight construction and a recessed foot placed low on the rod. This allows you to align the reel and maintain its balance as you cast your prey. The reel has a paddleboat grip that sits tight on your hands, enabling you to fish in rough conditions. It is a nice piece for practicing beginners and the best reel for intermediate anglers. 
The reel has a graphite frame and side plates made of anodized aluminum; it feels more sturdy while casting and has better handling. The heavy-duty construction also means that you'll use the top fishing reel for a longer time. With advanced braking systems located externally, it is easy to control your movements and apply brakes when needed.
The Abu Garcia Pro Max has a magnetic MagTrax feature responsible for the advanced braking system, which helps reduce backlashes and line twists. Another awesome perk of Abu Garcia is its gear ratio of 7.1:1 and a high line retrieval rate which guarantees you faster angling with lipless cranks. Far from speed, you'll also get smooth reels with the Abu Pro Max, allowing you to pull back with minimal effort. 
Combined with a Rocket Propulsion Line Management System, the Abu Garcia reel provides an incredible casting distance, even when the wind speeds are peaking. Also, the Pro Max Baitcaster has a powerful drag system able to lockout up to 18lbs of prey out of the covers.
Why I Picked Abu Garcia Pro Max
If you don't know Abu, you're definitely new to angling. The reel company is known for producing top-performing reels with experienced anglers loving these reels. Abu Pro Max has a stunning, futuristic appeal and an ergonomic design made to allow long periods of fishing. It has quality parts like the Duragear system, which allows fishing in harsh conditions. 
It is more compact, lightweight, and has a customized drag system able to prevent bumpy drags, especially when handling larger fish. Abu Garcia Pro Max definitely offers more value for the price and counts as a great fishing reel for beginners and avid anglers alike. 
Features
7+1 Ball Bearings
High-Speed Gear Ratio 7.1:1
In-house MagTrax brake system
Frame is made out of graphite in one piece
Graphite sideplates
Size
Gear Ratio
Bearings
Max Drag
Weight
Braid Cap.
yd / lb
Mono Cap.
yd / lb
Pmax3
7.1:1
8
18lb / 8.1kg
7.3 oz
140/30
145/12
Best Trolling Reel: PENN SQL30LW Fishing Squall LevelWind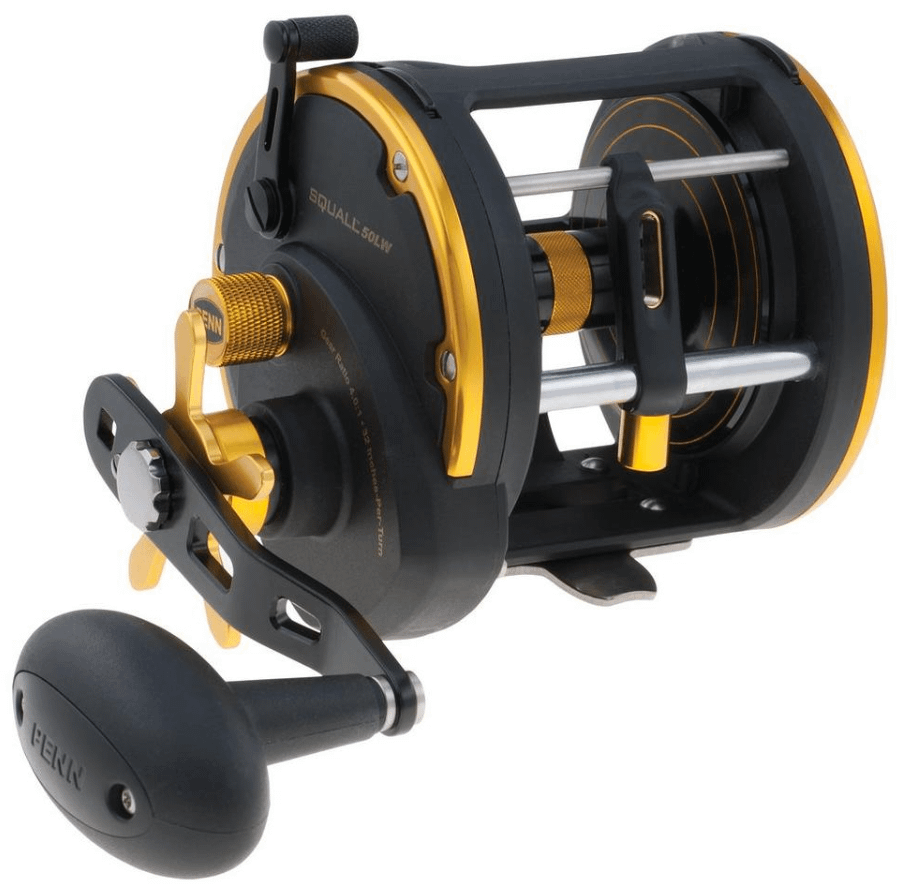 The Penn Squall Levelwind is a robust fishing reel whose classic appeal speaks a lot to seasoned anglers. It is a baitcasting reel made for trolling fishing, and you can use it both in fresh water and sea fishing. Its lightweight graphite build gives the reel massive power to tackle heavy fish. The reel has a stainless steel pinion and bronze gears that should help you have a sturdy casting without fear of damage. 
Interestingly, Penn is one manufacturer that has catered for left-handed anglers. The Levelwind has a left-handed configuration for lefties- fantastic! That said, it is a no-brainer the Penn Squall one high-end fishing reel in the market. This reel is a serious tool for both beginners and seasoned mariners as it has a well-crafted aluminum spool that gives you a suitable amount of line. 
The Penn Squall Levelwind may not be on the list of top-rated fishing reels at the moment, but it still offers serious features like the in-house HT100 drag system carbon disc brake. You'll be able to take control of your prey even when the weather is not as favorable. The clutch sprocket is carefully placed close to the handle for easier accessibility while in action.
Even in the toughest of use, the stainless steel side plates shield the case from external damage. Penn Squall is a decent reel mostly because Penn is a large company with several brands that make the best fishing reels.
Why I Picked PENN Squall Levelwind
PENN Squall Reels are better known for their power and finesse in fishing. I picked this one as it had an option of two-speed reels; something we often see on higher-priced models like the Okuma Makaria. While most people don't consider the construction sturdy, I still believe graphite is a pretty solid material and will last a couple of years. 
The ocean tool has a patented technology on the spool which allows for frictionless movements. This drastically increases casting distances up to 200 yards with no restraints. It is an affordable fishing reel with three different models on one line- talk of versatility!
Features 
In-house design HT-100 Drag System
2 Stainless Steel Ball Bearings
Instant Anti-Reverse
Size
Gear Ratio
Bearings
Max Drag
Weight
Line Retrieve
Braid Cap.
yd / lb
Mono Cap.
SQL15LW
4.9:1
3
15lb | 6.8kg
16.2 oz
28" | 71cm
580/20 435/30 305/50
320/15 280/17 220/20
SQL20LW
4.9:1
3
15lb | 6.8kg
16.9 oz
28" | 71cm
865/20 650/30 455/50
415/17 315/20 290/25
SQL20LWLH
4.9:1
3
15lb | 6.8kg
16.9 oz
28" | 71cm
865/20 650/30 455/50
415/17 315/20 290/25
SQL20LWLC
4.9:1
3
15lb | 6.8kg
17.8 oz
28" | 71cm
865/20 650/30 455/50
415/17 315/20 290/25
SQL30LW
4.9:1
3
20lb | 9.0kg
20.9 oz
35" | 89cm
1020/30 710/50 590/65
455/25 370/30 285/40
SQL30LWLH
4.9:1
3
20lb | 9.0kg
20.9 oz
35" | 89cm
1020/30 710/50 590/65
455/25 370/30 285/40
SQL50LW
4.0:1
3
20lb | 9.0kg
24.6 oz
32" | 81cm
900/65 775/80 665/100
435/40 320/50 285/60
Best Spincast: Pflueger PRES10SCX President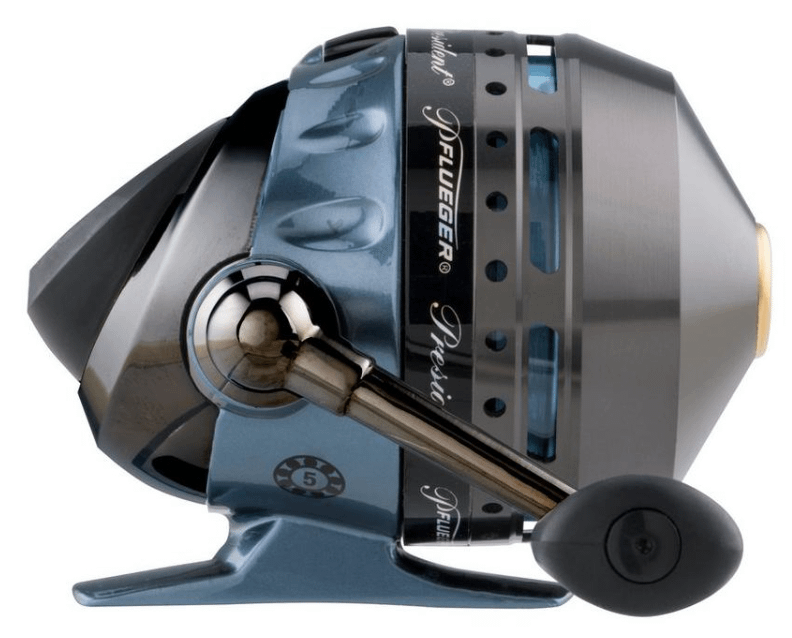 For over a decade in making fishing gear, Pflueger has never disappointed in producing stylish and elegant reels. The Spincast President is an innovatively designed reel coming in a sturdy body with tons of features. Its graphite baitcasting has stainless steel lay-lines and spools. These materials allow for a smoother casting and an anti-reverse capability to catch fighting fish. The stainless steel also protects your reel from damage and prevents corrosion in saltwater. 
The Pfleuger President is a light spinning reel, and you can feel the difference the moment you get your hands on it. But don't be fooled by the size; it is still a sturdy reel that can catch large fish. Another great feature of this reel is the ten stainless steel ball roller bearings that streamline the reel and makes it easier to handle heavy fish. It is an excellent addition, especially for beginners who need a smooth working mechanism. Probably my top reason why it is the best fishing reel on a budget. 
While the President's drag may not be all that (10 lbs max. PRES10SCB model), it's still a smooth drag and has a pretty accurate cast that would allow you to cast up to 185 meters even in bad weather conditions. The President Spincaster reel is constructed with aircraft-grade aluminum material for a longer lifespan, guaranteeing you a few extra fishing trips! And oh, aluminum is saltwater-friendly too. 
The handle itself has a soft feel and grip on the hands. You can sure fish all day long with this one. The Pfleuger President's drag system is robust and completely adjustable. It features a multi-disc drag system made with a stainless steel oil washer. The Pfleuger President is indeed the best fishing reel for the money. I'd recommend this fishing reel for anyone who wants a superior feel to a fishing reel that costs a fraction of its competitors at the same caliber. 
Why I Picked The Pflueger President
I love Pflueger reel because there is something unique to each release and the recent Pflueger President is not different. The reel is way above standard reels and has a light tackle ideal for catching trout, catfish, walleye, or panfish. It has a high-quality construction and the reel is made from graphite, aluminum, and stainless steel. Such materials are used to make rather high-end reels. 
The Pflueger President consists of a braid-ready anodized spool with a bearing system that makes fishing silky smooth. In a nutshell, the Pflueger President is on this list because of brand value, quality, and product price.
Features
5 Ball Bearings
Aluminum Frame
Dual Titanium Pins
Spool Applied Drag
Instant Anti-reverse
Size
Gear Ratio
Bearings
Max Drag
Weight
Line Retrieve
Mono Cap.
yd / lb
6U
3.4:1
5
6lb | 2.7kg
9 oz
14.5" | 37cm
145/4 90/6 70/8
6
3.1:1
5
8lb | 3.6kg
8.6 oz
14.5" | 37cm
145/4 90/6 70/8
10
3.8:1
5
10lb | 4.5kg
11.2 oz
18.5" | 47cm
90/8 75/10 65/12
Conclusion
The 2020 was a crazy year with the lockdown but it's gone.
Fishing season is coming and we must be ready for all these big fishes; I'm sure they will be up for some good fights.
Piscifun has been making reels for the past couple of years and sure they don't have the experience or have been in the market as other big companies such as Abu Garcia and Shimano but, let me tell you something, they have what it takes to make top-performing reels for half the price; what am I saying, not even for half the price!
The idea of Let's Go Bass Fishing is to offer new alternatives for the best fishing experience possible.