As an Amazon Associate, I earn from qualifying purchases. Some of the links below might be affiliate links. This helps me to run the site's maintenance.
In this article, we'll be looking at my top 3 best kayaks under 500. They can match bigger and more expensive kayaks in many ways, but you're still limited to certain things. Read below to find out.
Are you an outdoor enthusiast, lover of fishing, or you just love to breathe in the fresh air of water bodies? Kayaking provides the best form of outdoor/fishing experience.
Contrary to popular belief, kayaks aren't meant for gliding over clear water or white water waves. It is actually a hunter's tool for fishing, especially if you know how to use a kayak effectively.
Kayak fishing is one great way of appreciating aqua views and, of course, fish for a grill-worthy meal.
Apart from being a great fishing equipment, it also creates an intimate fishing atmosphere you may not get when you use your motorboat. The fear of most outdoorsy people when they hear of modern water transportation is that it will be too expensive, or unstable.
Kayaks are not over the top expensive, and this article will cover affordable yet durable best kayaks under $500. Ascend makes very stable kayaks.
If you can't wait to read this long post, I suggest you take a look at them directly on Cabelas.com for the excellent and long service and support they've been known for.
Pros and Cons Of Kayaks
Kayaks are great transports, are efficient, and are fun but before we continue we must consider some pros and cons out of this hunter's tools!
Pros
It provides you with a serene experience that makes you feel in tune with 

nature

.

Kayaks allow you to get to low-level water spots where regular boats can't

It helps you navigate tight terrains and smaller water bodies, something a large motorboat is incapable of doing.

Suppose you want to experience a different outdoor type of workout and build your muscles. In that case, kayaking is an excellent choice because it helps build muscle strength in the arms and lower body parts.

It is definitely a fun social experience that allows you and your relatives to relax after daily stress.

Kayak fishing is much more affordable compared to fishing in a 

motorboat.

Kayaks cost way less than motorboats and do not require much repair and maintenance like a boat does.
Cons of Cheap Kayaks 
Common designs

Settles awkwardly in the water due to low hulls 

Harder to paddle (but some can use trolling motor)

Rear storage quickly fills up with water

Crappy handles

Inferior plastic quality 

Not advisable for novice kayakers who wish to explore deeper currents

Low drainage capacity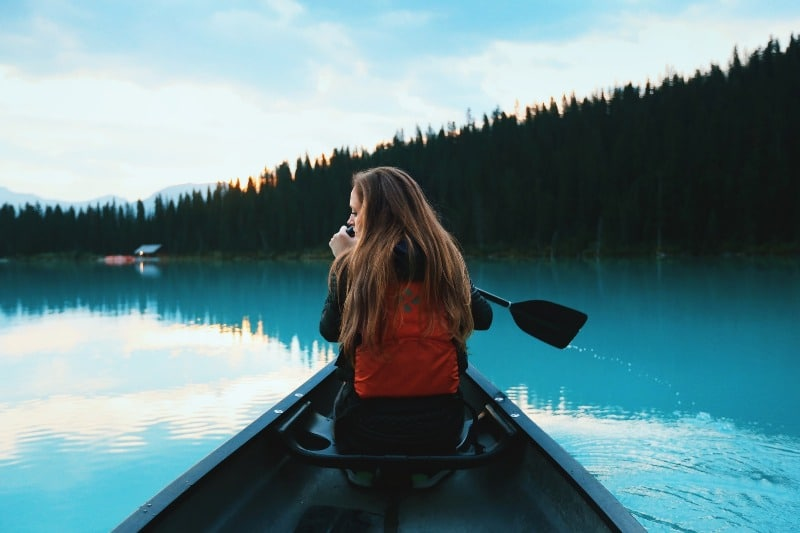 Best Kayaks Under 500
If you have been wondering if there are kayaks or what are the best kayaks under 500, the answer is yes. Unlike ridiculously low-priced kayaks with the cons mentioned above, there are high-quality and well-rated kayaks within the range of $500 and less on the market.
$500 is not a small amount, and so it is advisable to shop for a kayak that will offer you full coverage in terms of warranty, durability, features, and even aesthetics. 
The warranty depends on the kayak's manufacturer. Some kayaks have up to a 5-year warranty, some lesser than that while some have no warranty. 
The durability also depends on the manufacturer and materials used. 
The features include kayak size, compartments, number of people it can seat, water-resistance ability, and ease of use, among other things.
You might be overly concerned about the aesthetics or outlook of the kayak. However, if you do, you might want to watch out for kayaks under 500usd that are still very good on the eyes. 
Top 3 Best Kayaks Under 500
I have selected the top best kayaks under 500 you can get from Cabela's, which will help you have a better fishing or water gliding experience.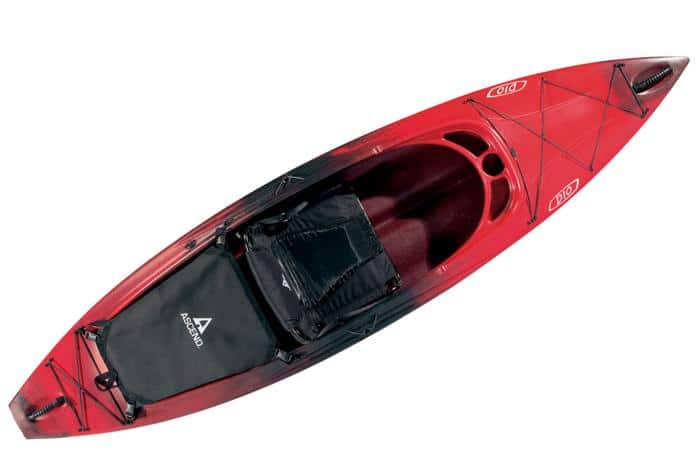 The Ascend® D10 Sit-In Kayak offers increased on-water performance and the speed of high-priced kayaks with improved value. With a design suitable to the needs of both beginner and advanced kayakers, the D10 possesses a superior tunnel hull design that assures maximum stability and easy paddling.
Specs
Length: 9'10"

Width: 29"

Cockpit: 68" x 23"

Weight: 45 lbs

Weight with seat: 50 lbs. 

Colors: 

purple 

and 

red

Made in the USA. 

Maximum weight capacity: 300 lbs.
Special Features 
Quite affordable

Custom-crafted 

tunnel hull

 design

Comfortable padded steel-frame seat

Seat can be removed for use on land

Large, open 68″L x 23"W cockpit

Covered stern well with 36-quart cooler

Bungee-secured storage in bow and stern

Hands-free adjustable foot braces

Dual-position paddle holders

Two large utility trays

Deep cup holder

Two rubber grip carrier handles
Ascend FS10 Sit-In Angler Kayak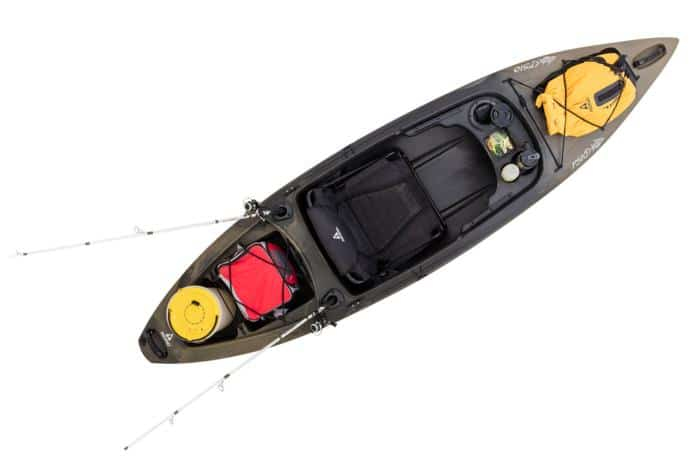 The Ascend® FS10 Sit-In Angler kayak is a premium feature-packed kayak. It is specially designed for experienced anglers who wish for excellent sport performance at a higher value and for way less. 
The Ascend® FS10 has a V- style hull design with an extended keel, aggressive strakes, and performance rockers, which aid easy paddling, maneuverability, and optimum kayaking experience. 
Specs
Length: 10′

Width: 30″

Weight (with seat): 57 lbs 

Maximum weight capacity: 325 lbs. 

Colors: 

titanium

 and 

camo

Made in the USA.
Special Features 
Affordable 

Durable high-density linear 

polyethylene

 construction.

Large, open cockpit for easy mobility

Accessible one-hand seat back adjustability

Deluxe Removable Seating System 

Hands-free, adjustable foot braces

2 cleats – handy anchoring spot for minnow bucket or stringer

Weathertight Screw-Out Deck Plate Storage

Bungee-secured storage in multipurpose stern well and on bow

Dual 

paddle

 holders

Deep, dual-sized cup holder

2 rubber grip carry handles
Ascend 9R Sport Sit-On-Top Kayak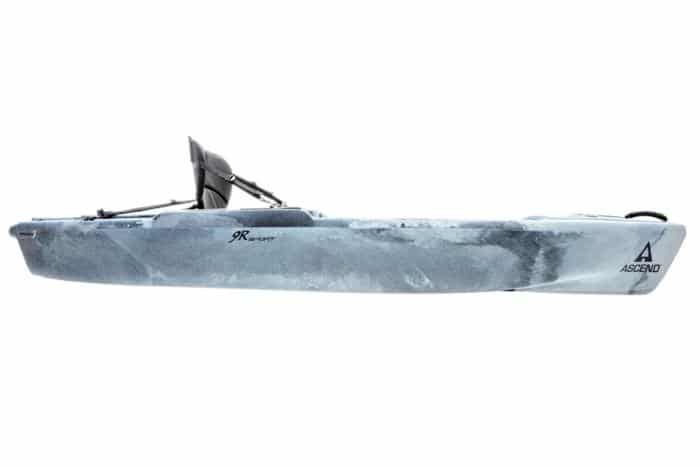 The Ascend 9R Sport Sit-on-Top Kayak is a rugged recreational playboat with a custom tunnel hull designed on a higher seating position for younglings or short adults. The Ascend 9R Sport Sit-On-Top Kayak also has an open design with unique deep-molded storage spaces around the seating position.
This Ascend kayak is the best option for people seeking a rotomolded under $500 kayak specially designed for calmer waters.
Specs 
Length: 9′

Approximate weight: 52 lbs

Maximum weight capacity: 275 lbs

Color: 

titanium 

Made in the USA.
Special Features 
Quite affordable

Lightweight

easy to transport

portage, and stow

Rotomolded, tunnel hull designed for small adults or youth 5'10" or under 

Deep-molded, self-draining drink holder/storage

Weathertight storage forward of the seat

4-point, adjustable, removable seating system with 1″ neoprene-covered closed-cell foam

6 scupper drains (plugs sold separately)

Bow and stern carrying handles

Threaded, sealed drain plug
As a Beginner Kayaker, Which Is The Best Kayak Under 500?

The most suitable fishing kayak for a beginner kayaker is the Ascend D10 Sit-In Kayak. It possesses an advanced tunnel hull, which makes it easy to use and is fully equipped with all you need for a secure and fun fishing trip. It is also affordable.
Ascend D10 Video – One Of The Best Kayaks Under 500
Watch this video and see how geared up this angler got it kayak going. It's not the best quality, but his kayak is a killer.
Concluding Our List Of The Best Kayaks Under 500
Kayaking is fun, and it doesn't have to cost an arm and a leg to own a stable kayak. Cabela's stocks the very best kayaks under $500 and other kayak equipment that will meet all your kayaking needs.
Don't forget to write me below in the comments section what do you think about this list?
Are you interested in a much more robust and well-equipped kayak?