As an Amazon Associate, I earn from qualifying purchases. Some of the links below might be affiliate links. This helps me to run the site's maintenance.
Here is an excellent place to start if you're looking for the best bass fishing reels online. Buying products online can be time-consuming, with hundreds of different reviews showing different budgets and reel sizes.
In this post, I've selected the best picks on different budgets to choose from.
Are you looking for a reel based on performance or price? Either answer is covered in this post.
Have you seen all these 5? 
Piscifun Torrent – The Best Value Under 50
| Gear Ratio | Bearings | Max Drag | Weight | Line Retrieve | Braid Cap. | Mono Cap. |
| --- | --- | --- | --- | --- | --- | --- |
| 7.1:1 | 5+1 | 18lb/8.1kg | 8.0oz | 30"/76cm | 30lb/120yd | 10lb/120yd |
| 5.3:1 | 5+1 | 18lb/8.1kg | 8.0oz | 30"/76cm | 30lb/145yd | 10lb/195yd |
Piscifun claims that they will provide you with the best quality products without breaking your bank, and they stood by their claim with this product.
In terms of strength, this reel is an absolute beast. It offers a powerful brass drive gear as well as a robust drag system. You can also choose a gear ratio of 7.1:1, which means you will be incredibly fast on the water. Alternatively, you can pick a slower 5.3:1 gear ratio for your type of fishing and the lure you're fishing with.
The ratios are also ideal for catching those mighty basses. It has a three-layer high-grade carbon fiber drag washers, and the drag system boasting up to 18lbs. Thus, this reel will equip you with such power that even the loudest bass will be a measly target for you! Also, do not forget about the 4.33-inch aluminum crank handle that makes retrieving those stubborn basses a breeze.
This reel has pure stainless steel bearings and anti-corrosion gears. These guarantee the longevity and incredible smoothness of the reel. You, as an angler, will gain confidence and a better advantage over your prey.
This is one of the best bass fishing reels because it is remarkably durable, versatile, and gives the angler an exceptional feeling on the water. Due to its precise & efficient 0-10 magnetic brake, you can make instant smooth on-water adjustments. Also, because of a unique oil hole, it is extremely straightforward to lubricate the reel to make it last even longer.
 The reel is braided ready, meaning it can easily use both. Mono and braided fishing lines.
This product is as affordable as it is feature-packed. It has several reviews, so the product speaks for itself.
The best thing about this is its price. If you're just getting started or want an astonishing fishing reel for excellent value, this is the right one for you. You cannot go wrong with it.
Pros:
3-layer high-grade carbon fiber drag system

Corrosion-resistant gears

Very easy to perform maintenance

Excellent  value
Cons:
Not the lightest at 8oz, can be a little heavy for some anglers

Not suitable for saltwater fishing
Johnny Morris Platinum Signature Baitcast Reel – The Premium Over 100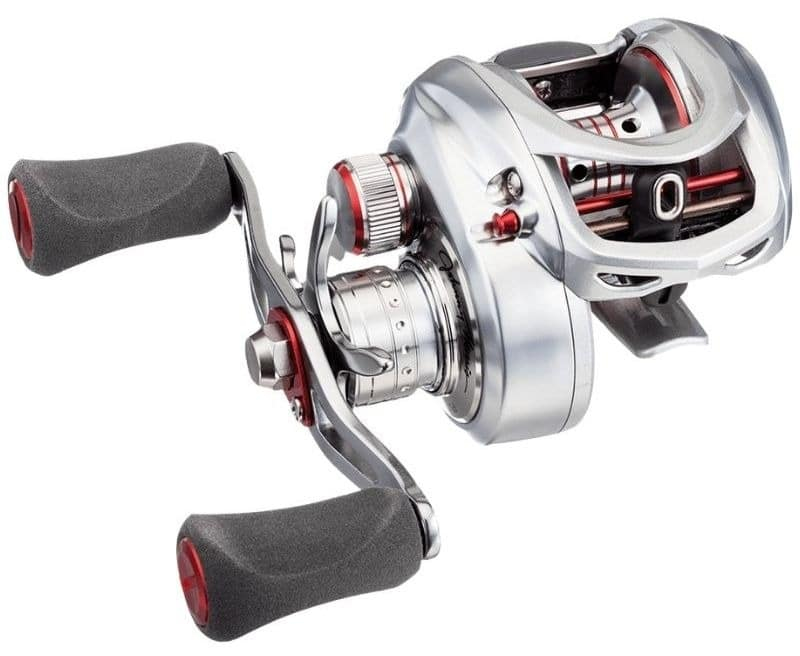 Johnny Morris produces reels that provide value proportional to its price. Their platinum signature baitcasting reel promises immense value for its reasonable price. Here's why:
It has a solid CNC machined aluminum frame, which provides rigidness and durability. The added aluminum side plates and double-anodized spool enhances its strength even more. Or at least it makes us feel this! Ha!
The outer structure of this reel guards all other components residing inside the reel. The drive system and crankshaft consist of duralumin and is incredibly light. This structure equips the reel with immense strength enough to tackle any bass out in the water.
The bearing system uses Japanese stainless steel and consists of 10 double-shielded bearings. This structure makes it an 11-bearing (10+1) system.
You can buy this reel in two different gear ratios. One is the fast 6.8:1 and very fast 8.3:1 ratio. As for the max drag, it only stands 14lb so expect a good fight with your fish.
Some other great features you can expect are the dual braking system, the carbon drag system, and aluminum grips. All of these features make it look like this reel should cost more, and sure it's not the cheapest, but sometimes quality comes directly proportionate to the price. This the case.
As you could expect, this premium fishing reel comes ready to withstand any fishing line such as mono or braided.
You're getting a boatload of features for a very reasonable price. If you don't believe me, go ahead and check the reviews.
| Gear Ratio | Ball Bearings | Max Drag | Weight | Line Retrieve | Braid Cap. | Mono Cap. |
| --- | --- | --- | --- | --- | --- | --- |
| 6.8:1 | 10+1 | 14lb/6.35kg | 6.4oz | 28.5"/72.3cm | 30lb/155yd | 12lb/120yd |
| 8.3:1 | 10+1 | 14lb/6.35kg | 6.4oz | 34.9"/88.6cm | 30lb/155yd | 12lb/120yd |
Pros:
Drag system smooth, and powerful.

Dual brake system highly adjustable

Japanese stainless-steel ball bearings

Extremely light
Cons:
Can be a little expensive for beginners or people on a budget

Less max drag than cheaper reels
Piscifun Viper II Spinning Reel – Best Overall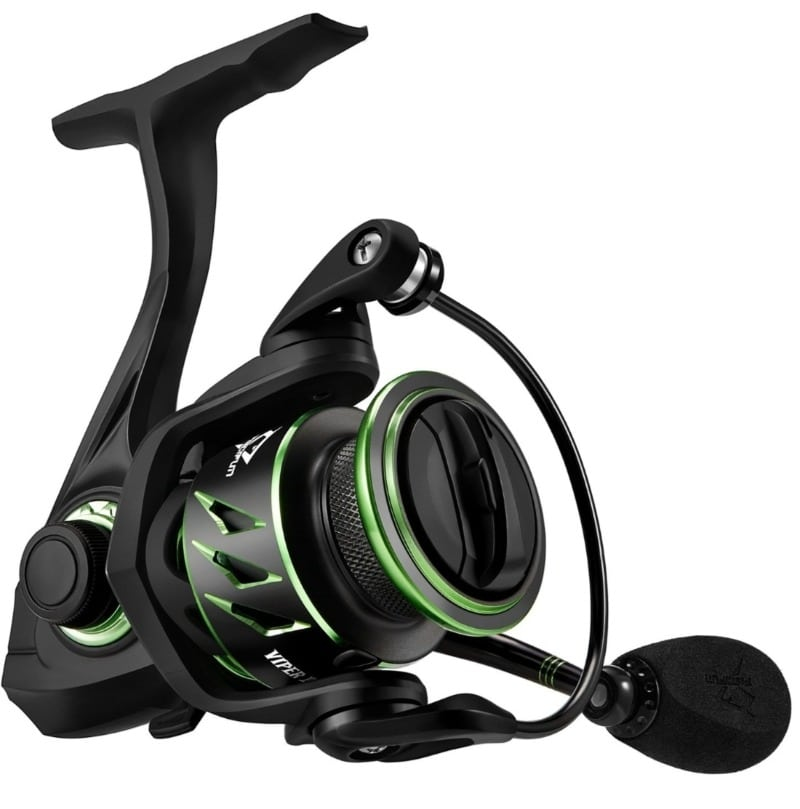 This one is yet another affordable bass fishing spinning reel. It ensures that you are ready and well-equipped for your next catch. Although the price falls way within one's reach, it can mislead you to think it is any less than the big guns out there.
It has an excellent carbon drag system that swells up to 26.5 lbs of drag. Also, it hosts a hardened main shaft, and a machined alloy main gear, which allows this reel to withstand immense force and ensure the catch. Even the most troublesome bass will succumb to this reel's strength.
Although this reel is quite powerful, the creators also considered the user's comfort by offering different reel sizes and weights. Also, they provided a 10+1 anti-corrosion bearings that ensure smooth oscillation and operation. Besides, the rubber ring present in the drag ensures the water won't destroy the drag.
The design of this reel makes sure that it will be durable and stable. I've included a specs table below, but I must address this is one of my favorite spinning reels under $50. Make sure to check the latest price and grab a promo code. 
To me, this one is a keeper and a great option to catch bass.
| Size | Gear Ratio | Bearings | Max Drag | Weight | Line Retrieve | Braid Cap. | Mono Cap. |
| --- | --- | --- | --- | --- | --- | --- | --- |
| 1000 | 6.2:1 | 10+1 | 13.2lb/6kg | 8.4oz | 28.0in/71.0cm | 20lb/170yds | 6lb/170yds |
| 2000 | 6.2:1 | 10+1 | 17.6lb/8kg | 8.6oz | 29.1in/74.0cm | 25lb/175yds | 8lb/150yds |
| 3000 | 6.2:1 | 10+1 | 22.0lb/10kg | 9.5oz | 30.6in/77.8cm | 35lb/190yds | 10lb/180yds |
| 4000 | 6.2:1 | 10+1 | 26.5lb/12kg | 9.9oz | 32.2in/81.7cm | 45lb/180yds | 10lb/240yds |
Pros:
Best carbon fiber drag system for a very low price

Smooth

Long-lasting and durable
Cons:
Not enough drag notches

Not the lightest carbon fiber made reel
Piscifun Phantom X Baitcasting Reel – A Keeper Below 100
If you're a serious angler, and you know the value of high-quality products, then you'll surely love this. This reel will surely give you your money's worth.
Gear ratio is an important feature to know when it comes to executing the fishing technique you want. So this baitcasting reel gives you precisely that, 3 different gear ratio options.
With a gear ratio of 7.6:1, you're retrieving 33 inches per handle turn. It enables the angler to be fast and efficient. Being able to choose from different gear ratios, one of the angler's most important features, lets you execute any technique you want on any fish. So you can be extremely versatile with this reel.
You must buy a separate reel to have a different gear ratio. You can't change it on the fly, though that would be nice. I don't know any reel that exists with this option.
This reel also has a friendly user braking system. It doesn't matter if you're an experienced angler or not. The easy 6-pin access gives you full power when needed. To adjust, you can easily set it at 3 for starting out and then finely tune it to your personal style of casting.
Let's talk about drag power. Yes. This reel has a carbon fiber drag system that delivers drag power up to 18lbs. That's enough to play and win the tug of war against any stubborn bass!
Now, for the intricate parts, this reel features a double anodized hardened main gear and shaft for consistent performance. For the spool, it is CNC hollow Aircraft-grade duralumin spool that accelerates rapidly, allowing you to be fast.
One of the best things about this reel is that it only weighs ~7.0 oz or 195 grams. It's so lightweight that you can cast with this reel all day long and you won't feel a tad bit tired.
This reel is excellent for beginners as well as professionals. They are easy to maintain and adjust. So, it gives you ample room for improvisation and adaptation. If you use it, you won't find a chance to complain at all.
Though this reel is all good on paper and feeling, I don't know how long it will last with this quality. Feels good, works good, but for how long? I'll be updating my site with a long term use of this reel.
| Gear Ratios | Bearings | Max Drag | Weight | Line Retrieve | Braid Cap. | Mono Cap. |
| --- | --- | --- | --- | --- | --- | --- |
| 5.3:1 | 7+1 | 18lb/8.1kg | 6.9oz | 23"/58cm | 20lb/215yd | 10lb/190yd |
| 6.3:1 | 7+1 | 18lb/8.1kg | 7.0oz | 27"/69cm | 30lb/120yd | 10lb/120yd |
| 7.6:1 | 7+1 | 18lb/8.1kg | 7.0oz | 33"/84cm | 30lb/120yd | 10lb/120yd |
Pros:
Incredibly fast and lightweight

7+1 ball bearings for excellent casting capabilities and a smooth retrieve

Offered in different gear ratios settings
Cons:
Not suitable for saltwater

Questionable durability
Johnny Morris Carbonlite 2.0 Spinning Reel – The Best Bass Fishing Reel in 2020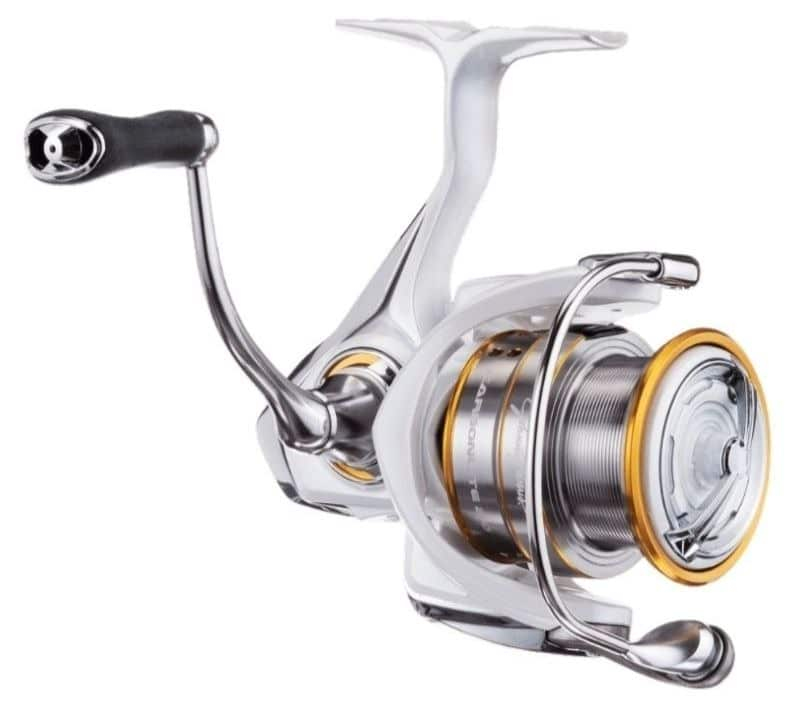 If you're like me, who likes to get things done fast, then this reel is sure to catch your attention. It's one of the thinnest and most lightweight reels in the market. And it's suitable for any premium rods while requiring minimum features and configurations.
If you're into extreme fishing sports, that you can buy this with your eyes closed. This reel delivers perfect balance and comfortable palming to the angler. So, fishing is a breeze with this spinning reel.
In terms of gear ratio, this reel comes in only one gear ratio, 6.2:1. It is sort of configured to a do-it-all setting.
The external structure of this reel is made of high-performance carbon composite. Made as a lightweight 1-piece frame and double-anodized, machined-aluminum spool.
This reel also has a quality 7+1 stainless steel ball bearings with the anti-reverse system.
| Size | Gear Ratio | Bearings | Max Drag | Weight | Line Retrieve | Braid Cap. | Mono Cap. |
| --- | --- | --- | --- | --- | --- | --- | --- |
| 1000 | 6.2:1 | 7+1 | 11lb/4.9kg | 6.7oz | 30.5"/77.4cm | 8lb/220yd | 4lb/110yd |
| 1500 | 6.2:1 | 7+1 | 11lb/4.9kg | 6.9oz | 32"/81.2cm | 10lb/210yd | 6lb/110yd |
| 2000 | 6.2:1 | 7+1 | 22lb/9.9kg | 7.4oz | 34.5"/87.6cm | 20lb/170yd | 8lb/110yd |
| 3000 | 6.2:1 | 7+1 | 22lb/9.9kg | 7.8oz | 36.8"/93.4cm | 30lb/170yd | 10lb/130yd |
Pros:
Suitable for tournament-level performance

Has a built-in lube port for easy maintenance

Best value for your money
Smooth
Lightweight
Fast
Several models to choose from
Cons:
Only sold at Cabelas or Bass Pro Shop stores
Sometimes only found in a rod n' reel combo
Conclusion
In conclusion, finding products on the internet is difficult, especially with lots of shady products out there. Piscifun tries their best to give their customers what they need. They are a well-known brand, and a majority of anglers trust their products out there. So, if you're looking for high-quality reels for an affordable price, check out their products. Check their reviews on Trustpilot
For the price and quality, they offer, you can't go wrong! Go get some of my best bass fishing reels from Piscifun and comment below what you think!
Nonetheless, Johnny Morris lineup is one of the angler's favorite brand for the best bass fishing reels. They carry high-quality casting and spinning reels. That's no surprise.
This comes at a higher cost, but well worth it. 
I hope you catch the biggest and the mightiest bass on your next trip to the shore. Good luck!