As an Amazon Associate, I earn from qualifying purchases. Some of the links below might be affiliate links. This helps me to run the site's maintenance.
Having the best rod and reel combo for bass fishing to relish the best fishing experience is a must for every seasoned angler.
For some of you out there, you might not know what's bass fishing.

Bass fishing is a fishing sport for the North American Game Fish. It's also known as black bass.
So, having the right tool for the right sport is necessary to derive the best experience from any game.
That's why a rod and reel combo is so vital to bass fishing anglers.

To an angler, the rod is the sword, and the reel is the enchantment. A combination of these will set the wielding angler apart from tenths of others.
In this article, we'll go over top brands that produce the best fishing rod, and reel combo for bass fishing can step up our fishing game.
One important thing to note is that a fishing rod and reel combo ready-made might not always satisfy you with the type of rod and reel it provides. So, in case a rod and reel don't fit your taste, feel free to customize the combo and make your own.
You don't exactly have to buy what the market offers.
So, let's look at some remarkable fishing rod and reel combos in the market.
Piscifun Torrent Baitcasting Fishing Rod and Reel with Pole Storage Case Bag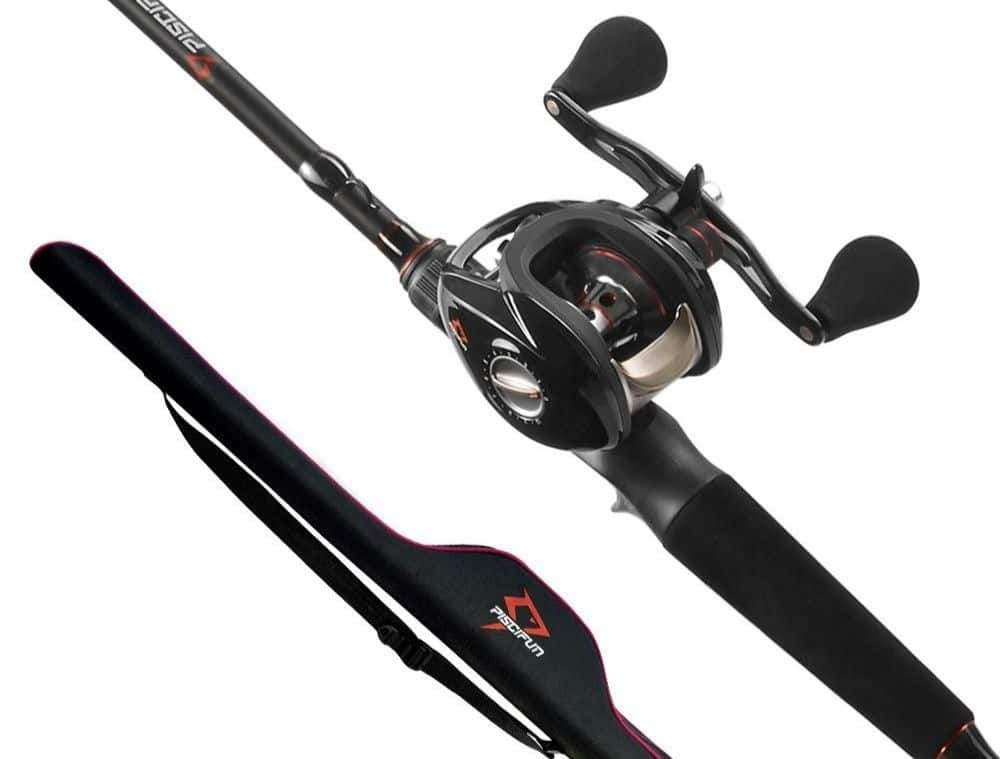 This combo packs a Piscifun Torrent baitcasting reel which has a magnetic brake, a CNC machined brass gear that guarantees a strong drag system and durability. The Torrent reel has a ratio of 7.1:1 which means the spool rotates 7.1 times for a single turn on the handle. As for the bearings it has 5+1 and all this combination makes it a fast and smooth reel. 
The rod, on the other hand, is a 2-piece rod making it convenient to travel and store it without losing sensitivity when fishing.
It's also made of a composite of graphite and fiberglass for a balanced rod-budget-combo.
Finally, the guides have Zirconium inserts to minimize line slippage and allows you to use every type of line including the braid fishing line.
Piscifun Carbon X Spinning Reel and Serpent Spinning Rod Combo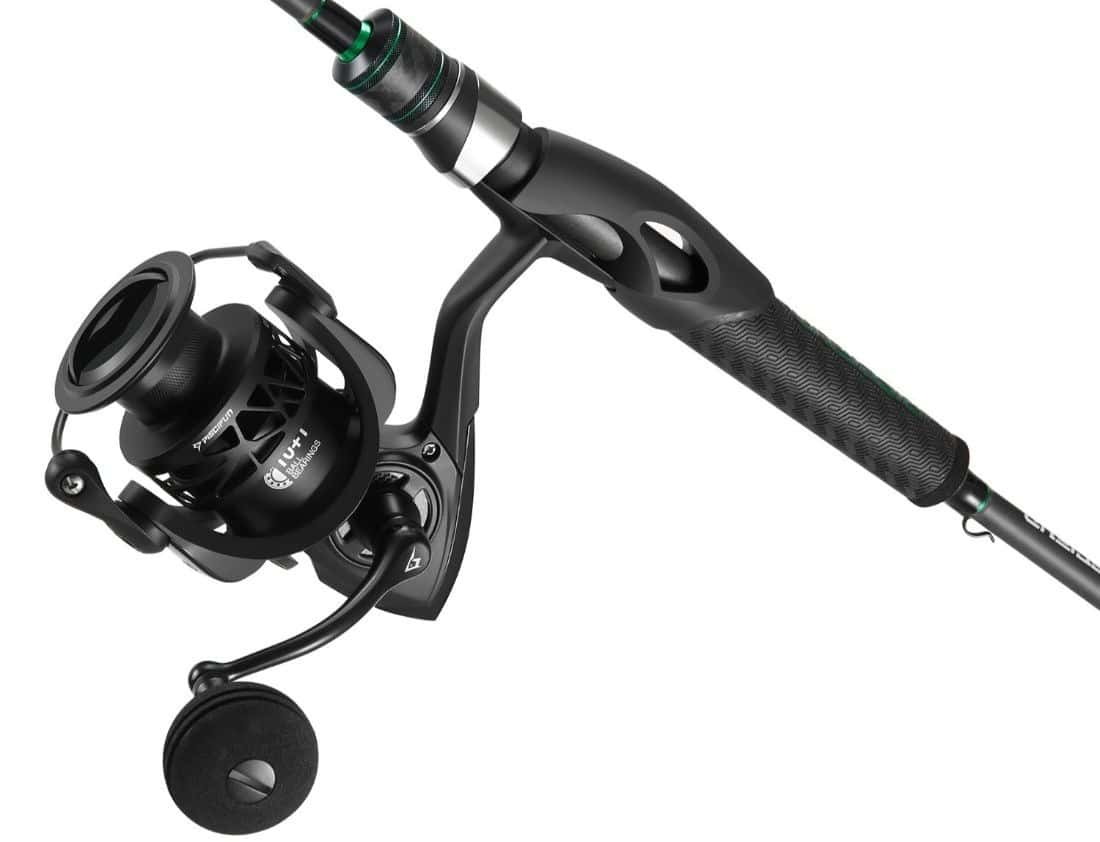 Ok, let me start by telling you something; this is one of the best rod and reel combo for bass fishing. It is a spinning combo unlike the first one.
But how much of a drawback can price be if you're buying premium quality fishing gear? Listen, in this combo, the reel is the Carbon X. 
It is the best in its class, and it only weighs 5.7oz which I tell you, your wrist will thank me. Not only is it feather-class light but also very smooth with a 10+1 ball bearings and a gear ratio of 6.2:1.
Spinning reels have a slightly lower gear ratio compared to the baitcasting due to the bail size, but I'll leave that for another post. 
Let's talk about the rod. The rod of this combo comes in 1 piece only. This will give you the best sensitivity when fishing and optimal feedback. You will be able to feel where your line is at and every fish bite.
The rod is made of carbon fiber, making it 10% lighter and 50% stronger. FYI this same material is used on the Boeing 787 Dreamliner. The foregrip is made of carbon fiber and an ergonomic palm curved design for better handling and feel.
The Fuji guides will give you unmatched durability and excellent casting capabilities.
PLUSINNO Fishing Rod and Reel Combo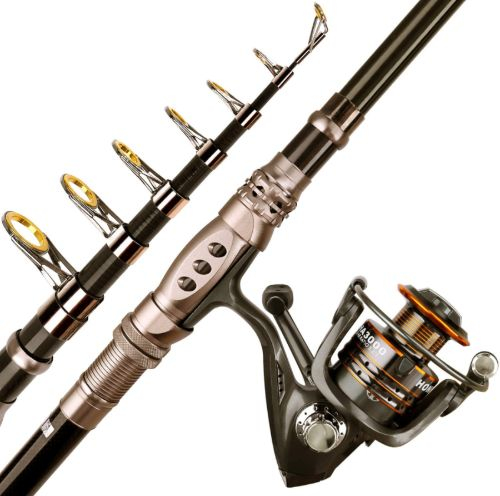 It's one of the hottest products on Amazon right now. The rod consists of carbon fiber, one of the sturdiest materials in nature, and features aluminum oxide guides and a hook keeper. The reel is great, but its gear ratio is a bit slow, 5.2:1. Nothing to worry.
This combo pack is as reliable as it is versatile. It uses anti-reverse technology that guarantees your precious catch. Also, this combo pack is quite light and is best-suited for species such as trout and panfish. The price is reasonable too. So, don't forget to check this out on Amazon!
Sougayilang Fishing Baitcaster Fishing Rod and Reel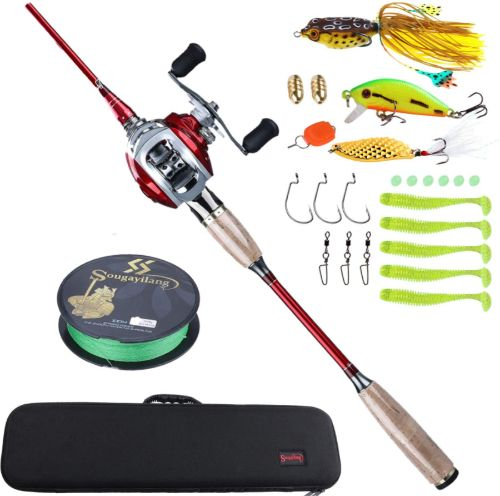 Although not an established name in the industry, Sougayilang is slowly coming into the scene by producing top-notch products such as this fishing rod and reel combo.
It is notably lightweight and uses a baitcasting reel. So, it's not for the faint-hearted anglers.
The rod uses slim carbonized fiber, and we all know that carbon fiber is by far the best material for fishing rods.
This fishing rod and reel combo is ideal for bass fishing. The reel is lightweight, smooth, robust in structure. It has a built-in oscillation system, which is superb. Also, it's versatile and portable, and it's suitable for travel and lengthy trips.
4 Piece NetAngler Fly Fishing Rod and Reel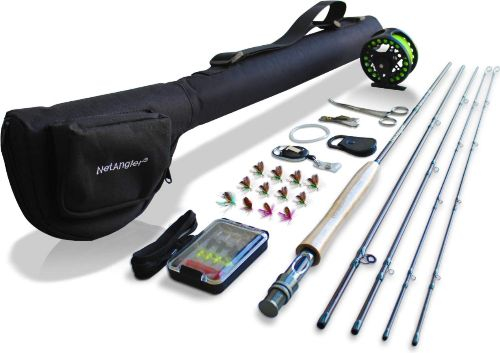 The NetAngler fly fishing combo is the complete package for anyone who wants a hassle-free equipment shopping.

This package includes one fly fishing rod, one free rod tip, one fishing reel with pre-installed fishing lines, sixteen fishing flies in a tackle box, and one carrying bag. Pretty cool, right?

This package is a complete solution for anyone who is starting their career as a hobbyist angler. The best thing about this rod is that it is super cheap.
Getting such a good deal at a low price like this is ridiculous in today's market!

The makers kept their customer's needs in mind. So they designed this package intending to give their customers a complete bass fishing experience.
Wild Water Fly Fishing Rod and Reel Combo Starter Pack for Bass Fishing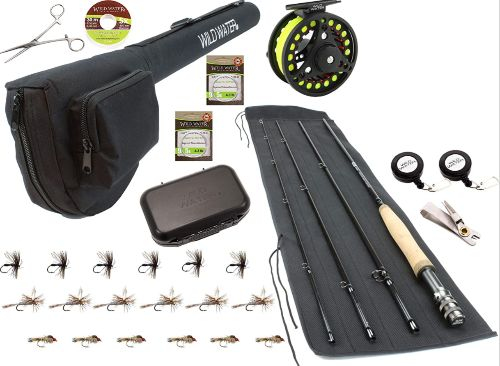 Wild Water fishing rod and reel combos are one of the best in the market.
Though they rank slightly high in the price range, you'll get an excellent product for the extra buck you spend.

It has a custom box design, custom foam design, completely waterproof, stainless steel, and many, many other notable features. I won't bore you with the technical details, as you can see them for yourself on the product page.

You will be in safe hands if you consider purchasing from them. Their products are acutely popular, and their customer service is top-notch.
Redington Crosswater Fly Fishing Rod and Reel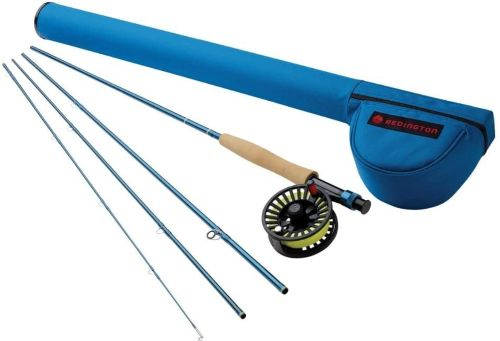 This fishing rod and reel combo is the final combo package to make it to this list.
The best thing about this combo is that it comes with a one-year warranty. So, even if the price goes beyond your budget, you know that you're getting a risk-free deal. So, there is no reason not to consider this! It works on all kinds of waters too.
My Final Thoughts
We looked at pre-built combos until now. But what if you wanted something even better and completely customized to your needs?
Sometimes, if the price is high, you still want the best product for the best price. So, go and take a look at some of the top brands available on Amazon like Shimano, PENN, Abu Garcia, and build your dream combo.
Let your imagination be your limit! I hope you enjoyed this article.
I've written this article, and perhaps you can think of something that suits you better. 
Don't leave before you read all the types of fishing reels available on the market.
Help me out by sharing Let's Go Bass Fishing with friends and family.
Take care!