As an Amazon Associate, I earn from qualifying purchases. Some of the links below might be affiliate links. This helps me to run the site's maintenance.
Fishing has never been any more fun than it is today. With the availability of a wide range of world-class fishing reels to complement the exercise, you can have some exciting experiences. One such tackle that has made a fuss in recent times is the KastKing Royale Legend GT.
With all the constant talk and reviews about KastKing Royale Legend GT, I decided to give it a try and see what it has in store for us. Does it meet the expectations of its big reputation? Read this review until the end to find out.
KastKing Royale Legend GT is an entry shy of mid-level fishing reel that comes at a low price. As a modern reel, it harbors most of the features required of a gear of its level like fittings that help in casting for distance and accuracy. 
The fishing reel works best for competitive casting and recreational sports. Its gear ratio is 7.2:1, meaning it's a fast casting reel. In other words, the spool line will turn 7.2 times per 1 handle turn. The faster, the more efficient is when recovering the line. 
Like most reels that KastKing makes, it has reasonable smoothness due to its 5+1 ball bearings, magnet braking system, and carbon fiber discs for the price range. 
Earlier series of KastKing reels were often castigated for their large sizes. To make up for this, the Royale Legend GT is a smaller reel and considerably less weight. However, doing so brings KastKing knows they have to bring an ergonomic, good looking, and good quality product for its price range.
At this price range, competition is ferocious. Some of them are Piscifun, Sougayilang, Plusinno just to name a few. Even bigger and older brands such as PENN, Shimano, Abu Garcia, and more also have reels in this price range.
This is an inexpensive reel that I would not have any problem recommending. Beginners and anyone who would love to leave a mark in the baitcasting pool is sure to have an easy time with it. And considering the less impact that the solid-built reel has on your budget, you get a lot of reel for less money.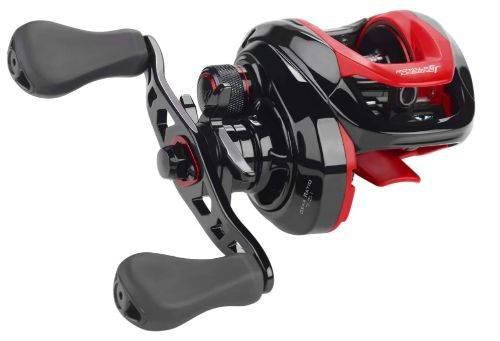 Gear Ratio
Ball Bearings
Max Drag
Weight (oz)
Line Retrieve
Braid Cap.
Mono Cap.
7.2:1
5+1
17.64lb/8kg
7.2
29.8in/75.6cm
40lb/130yd
50lb/110yd
65lb/90yd
10lb/130yd
12lb/110yd
14lb/90yd
Pros
Low-cost baitcasting reel that allows you access to some great features. With such an excellent pricing module, it is hard for you to ignore the Royale Legend GT as your reel of choice.

High-speed, unmatched performance. The reel is designed to yield less sound so that you can better focus on your targets, more so in tournaments. 

Low weight at only 7.2 ounces and a reasonable size compared to its predecessors. A major plus to KastKing, given that most of its other products have always been castigated based on size issues.

A braking system that responds accordingly
Cons
Durability could be longer

The small spool puts a dent on the reel's retrieval per turn
Key Features
Magnetic Braking System – The magnetic system is managed using a dial on the side plate, giving you better control of backlash and over-runs. The system seems to be working fine and effectively meets realistic expectations. 

Line Capacity – Mono line capacity (LB/YD) 10/130, 12/110, 14/90, and with the braided line the capacity is (LB/YD) 40/130, 50/110, 65/90

Impressive performance – Enjoy a seamless performance with a line retrieval speed of 7.2:1 devoid of deafening noises. Integrates an aluminum spool that provides strength while at the same time reducing weight.

Easy to Get Started – KastKing Royale Legend GT works best for both seasoned and beginners in baitcasting reel, thanks to its simplistic design. If you are just getting started with baitcasters, Royale Legend GT would be the best place to do so.
What is in the box?
When you receive the box for the first time, you are sure to be mesmerized by its looks. The nicely designed box is a precursor to what is inside it. 
Opening the box reveals a sleekly designed black reel with a red inlay that gives it an outstanding look and feel. 
The box also has a nice reel cover made out of water-resistant material to protect your precious equipment when not using it. Makes one feel good that the folks at KastKing think about the longevity of your reel.
The box incorporates a manual that provides directions on how to use the reel. The manual covers all the moving parts not to leave you confused. 
As if that is not enough, buying the Royale Legend GT when there is a promotion earns you a $10 voucher to use in your next KastKing purchase. You never know when this voucher will come in handy soon. Please keep it safe.
KastKing is a high-quality, low-mid budget that will never let you down on your purchase and this is no exception. KastKing takes business seriously, I can assure you this.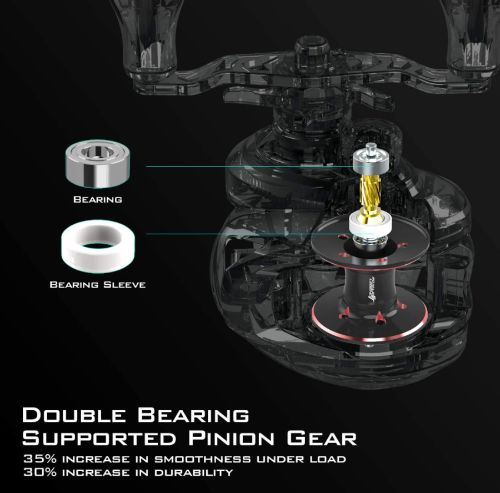 Is it Worth Your Money?
One thing that we can all agree on is that KastKing Royale Legend GT is not your regular fishing reel. Even though marketed as budget equipment, it is solidly-built, and its performance is flawless. If you plan on fishing for the whole day, you are sure to fall in love with its light-weight feature. High-end Shimanos, PENNs, and Abu Garcias are around this weight too.
Furthermore, the smooth drag points make it possible to focus your lure exactly where you want it. 
The reel is definitely worth the money. Not only does it make a gentle dig into your budget, but it also lets you gain access to a wide range of features, some of which could be found in premium fishing reels. 
The voucher is also something to look forward to in the event you need to make another purchase in the near future.
KastKing reels are good and don't forget you can also use the $10 dollar voucher on their fishing rods. I haven't had the chance to try them out, but I wouldn't be surprised if they also rock as much as this reel does. 
Now that you got yourself all geared up with this amazing, only sold online, reel it's time to find a place to go fishing.
 Give them a try, post a comment, and share your views!